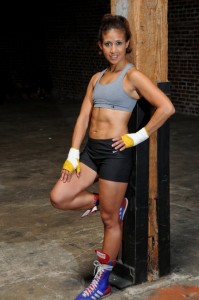 And a blistering hot sun it was today at Roger Dean Stadium in Jupiter Florida for today's outdoor boxing event, "Fight for the Pink." Jason Gavern headlined the card and proved to the crowd and the boxing world that he is a legitimate threat to all the heavyweight belts as he retained his own WBC Caribean heavyweight belt in a 7th round TKO over a very game and hard hitting Darnell "Ding a Ling" Wilson. Both men came out with bad intentions early with a smattering of hard shots from both sides in the first few rounds with Gavern the more busy fighter establishing his jab early. The middle rounds were more Gavern as he started to seemingly frustrate Wilson by not letting him set for his punches. Gavern a crowd favorite toyed with the ringside observers throughout the fight while Wilson was trying to get off the one big shot. The end came at 1:44 of the 7th round with an overhand right from Gavern that landed flush on the head of Wilson opening a huge gash prompting referee Frank Santore Jr to call a stop to the action. Gavern improves to 20-7 and this fight should move him closer if not in to the coveted top 10 rankings in the world for the big men.
In the other headliner of the day Patricia "Patty Boom Boom" Alcivar continued to impress with another gem of a performance over an extremely tough and game Savannah Hill. Alcivar led off round one with a flurry of punches connecting with several and setting the pace for the fight which would stay much of the same, Boom Boom booming shots into the face and body of Hill. Alcivar showed she was the superior fighter using sometimes 5 and 6 punch combinations all the while maintaining her composure and nimble feet. "Boom Boom" won a unanimous decision after 6 rounds of fighting winning every round on all the judges score cards and she improves her impeccable unbeaten record to 5- 0 and rumor has it she is fighting for a title sometime this year. Much more to come from this exciting young fighter.
On the undercard Swedish Heavyweight David Loy improved to 2-0 with a solid knockout of Justin Riegle in the second round. It should be noted that Loy donated his whole purse to the Fight Breast Cancer cause. Former Florida gold glover had his hands full in his pro debut with veteran Alex Cruz Medina before finally Medinas corner put a stop to the action at 1:22 in the third. Cuban Heavyweight Luis Ortiz improves his record to 7 wins and no defeats with a one sided victory of the slick, elusive now journeyman Jerry Butler. Look for Ortiz to shake up the heavyweight division over the next couple of years if he keeps focused. Finally Arturo Santiago improved to 7-3-1 in a win over Kadel Luiz Martinez in what was a very exciting back and forth match. All in all today's fight were a success for the fighters the fans and the fight against cancer.