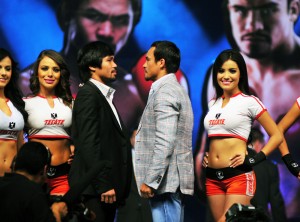 LAS VEGAS – Threat of a lawsuit is little bit like opening bell. Hear one and you can be sure the fight is about to begin.
Opening bell for the fourth chapter Saturday in the Manny Pacquiao-Juan Manuel Marquez rivalry was still a couple of days away, but the lawsuit threat echoed Thursday through the MGM Grand's press room with a buzz that said only fury will settle the differences that divide the opposing camps.
Marquez' controversial strength coach Angel Heredia promised to sue Pacquiao trainer Freddie Roach for comments in USA Today that implied the heavily-muscled Marquez had been using performance enhancers. Roach didn't need to consult an attorney for his response.
"He's a piece of bleep,'' said Roach, who also called Heredia "a rat" during roundtable sessions with the trainer.
Flush the legalese.
It's hard to know whether Heredia is just posturing or has been caught up in the hyperbole that always intensifies during the countdown for a major bout. He's a relative newcomer to boxing's outhouse. But Heredia's notorious resume is accented with inevitable questions. During the Balco scandal, he testified he had a role in giving PEDS to Olympic track-and-field medalists, including Marion Jones and Tim Montgomery.
Roach reads the testimony, looks at the bulked-up Marquez and says what many fans are thinking. No surprise there. Roach, a Hall of Fame veteran of fight-week hype, might be using the moment to play some mind games. That's as fundamental as a feint. Whatever he was doing, Heredia's anger is enough to wonder if it has entered into his conversation with Marquez and trainer Nacho Beristain.
"We're going to meet up with my lawyers,'' Heredia told the media Wednesday after a formal news conference.
If there is a meeting about anything other than how to beat Pacquiao for the first time, then Roach will have succeeded in throwing the first feint.
Notes, Quotes, Anecdotes
The intensity of the Pacquiao-Marquez rivalry makes it impossible to predict how their relationship will be after the final bell. "My relationship with him is one of respect,'' Marquez said. "It will always be inside the ring. But outside of the ring?'' Marquez left some doubt about whether they could be friends. "That's his problem,'' Pacquiao said.
Purses: According to contracts filed with the Nevada State Athletic Commission, Marquez is guaranteed $3 million and Pacquiao $8.595 million. That doesn't count the international money. Bob Arum says Pacquiao will collect at least $26 million after it's all counted. "We haven't knocked out anybody lately and we got a loss in our last fight,'' Roach said of Pacquiao's controversial loss by decision to Tim Bradley in June. "So we're taking a cut in pay.''