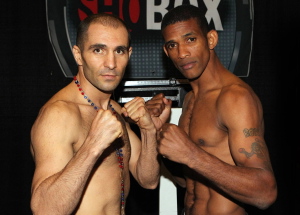 SANTA YNEZ, CALIFORNIA — In tonight's edition of the Showtime prospect series Shobox: The New Generation, unbeaten Art Hovhannisyan aims to make the move into contender status against former lightweight title holder Miguel Acosta in a ten-rounder at the Chumash Casino Resort. In the co-feature, rising super bantamweight Roman Morales takes a litmus test against tough Alexis Santiago in an eight-rounder. Fighters weighed in Thursday at the casino.
Hovhannisyan (14-0-2, 8 KOs) of Glendale, California by way of Gyumri, Armenia has not seen action since a cut-shortened technical draw against former featherweight champion Cristobal Cruz last August. Prior to that false start, Hovhannisyan made his name off of a eye-opening sixth-round stoppage of heralded Archie Ray Marquez in June of last year. Hovhannisyan, who scaled 132-pounds for tonight's lightweight bout, appears to be taking a big step up in class against Acosta, depending on what the former champion has left in the tank.
Acosta (29-5-2, 23 KOs) of Santiago de Leon de Caraca, Miranda, Venezuela is best remembered for scoring a minor upset of previously unbeaten Urbano Antillon to claim the interim version of the WBA Lightweight title in July of 2009. Acosta bumped off Paulus Moses a year later to get full recognition as champion before eventually running into Brandon Rios and losing his title via an entertaining tenth-round stoppage. In his last appearance, Acosta tasted the canvas three times against Richard Abril en route to a twelve-round decision defeat last October. Acosta scaled 134-pounds Thursday.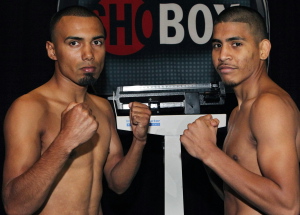 When the originally scheduled junior middleweight attraction between Julian Williams and Said El Harrak was a late scratch, the Morales-Acosta bout was elevated from televised opener to co-feature. Looking to make the most of the exposure is super bantamweight prospect Morales (10-0, 6 KOs) of San Ardo, California. Morales, making his premium cable debut, has quietly built himself a reputation as one the top prospects in the country and appears primed for a coming-out party. Morales, fighting for the sixth time at the Chumash Casino Resort, weighed-in at 122-pounds on Thursday.
Santiago (11-2-1, 5 KOs) of Phoenix, Arizona gained a small measure of notoriety in defeat last July. In a Telefutura-televised main event, Santiago gave well publicized prospect Randy Caballero his toughest test to date, although the scorecards did not accurately reflect his effort. If there is a red flag on Santiago's resume, it would be an eight-round majority decision loss to .500 fighter Evaristo Primero this past February. Santiago also came in at the super bantamweight limit of 122-pounds.
In other action off television, Francisco Santana (12-3-1, 6 KOs) of Santa Barbara, California returns to his home area against perennial opponent Larry Smith (10-11, 7 KOs) of Dallas, Texas in an eight-round light middleweight bout. Santana, coming in off of a hard-fought decision defeat to unbeaten Jermell Charlo last October, scaled 148-pounds. Smith, loser of his last six to quality guys, came in at 150-pounds.
Touted Jonathan Maicelo (16-0, 9 KOs) of North Bergen, New Jersey by way of Callao, Peru takes on faded former contender Daniel Attah (26-11-1, 9 KOs) of Washington, District of Columbia by way of Calabar, Nigeria in an eight-round lightweight bout. Despite his advanced boxing age, Attah still usually provides rounds even against quality opponents. Maicelo, a celebrity in Peru, has been taken the distance in three of his last four outings. Maicelo and Attah both scaled the division limit of 135-pounds.
Longtime venue favorite Rufino Serrano (12-4) of Santa Maria, California by way of Morelia, Michoacan de Ocampo, Mexico takes on Rob Diezel (8-4, 3 KOs) of Seattle, Washington in an six-round featherweight bout. Serrano, who scaled 125 ½, comes in off of a one-sided defeat to tonight's co-main eventer Roman Morales this past March. Diezel, who weighed-in at 125 ½-pounds as well, has strung together three straight wins since a first-round knockout defeat to Ramon Valadez last year.
Edgar Alvarado (0-1) of Riverside, California hopes to erase the memory of his pro debut as he goes up against Erick Prado (0-2) of nearby Santa Maria in a four-round light middleweight battle. Alvarado, stopped in one by Thomas Turner in April, scaled 157 ½-pounds Thursday. Prado, a split decision loser in his two bouts to Louis Rose and Victor Manuel Medina respectively, weighed-in at 161-pounds.
Recently signed by Gary Shaw Productions, Tureano Johnson (9-0, 6 KOs) of Atlanta, Georgia by way of Nassau, Bahamas will take on Arturo Rodriguez (12-11, 8 KOs) of Tijuana, Baja California, Mexico in a four-round middleweight bout. Johnson, a 2008 Bahamian Olympian, weighed-in at 160-pounds. The 36-year-old Rodriguez ended a nearly seven-year layoff with a third-round stoppage of winless David Orozco on June 1st. On Rodriguez' resume: a second-round stoppage loss to a 5-0 Miguel Cotto in 2001 and a first-round knockout loss to a 20-0 Paul Williams in 2003.
Tickets for the event, promoted by Gary Shaw Productions, are available online at StarTickets.com.
Quick Weigh-in Results:
Lightweights, 10 Rounds
Hovhannisyan 132
Acosta 134
Super Bantamweights, 8 Rounds
Morales 122
Santiago 122
Light Middleweights, 8 Rounds
Santana 148
Smith 150
Lightweights, 8 Rounds
Maicelo 135
Attah 135
Featherweights, 6 Rounds
Serrano 125 ½
Diezel 125 ½
Middleweights, 4 Rounds
Alvarado 157 ½
Prado 161
Middleweights, 4 Rounds
Johnson 160
Rodriguez 159
Photos by Tom Casino/Showtime
Mario Ortega Jr. can be reached at ortega15rds@lycos.com.