By Bart Barry–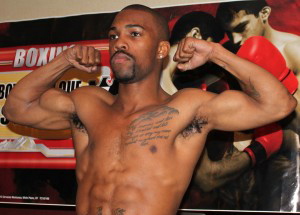 "Looks like in the next year or two, he is going to be a threat for any featherweight champion."
The quote above belongs to the late Emanuel Steward, an utterance he made about three years ago while watching Gary Russell Jr. decision someone named Eric Estrada, a Chicagoan who then promptly retired with a professional record of 9-2. Russell was 16-0 at the time. Mr. Steward had a penchant for saying most every event, regardless of outcome, had gone "exactly as I thought it would" – though doubtfully even he had a twinkle in his eye sparkly, or smile endearing, enough to say such a thing about Russell's career.
Saturday in Carson, Calif., in a fine featherweight title fight, Ukrainian Vasyl Lomachenko defeated Maryland's Gary Russell Jr. by split scores of 116-112, 116-112 and 114-114, giving Russell his first professional defeat and Lomachenko his second professional victory.
Gary Russell Jr. did not deserve a full helping of what derision was heaped on him previously, and he proved as much Saturday. Vasyl Lomachenko deserved at least 2/3 the praise initially heaped on him, too, and he proved as much Saturday. Their fight was excellent, deserving of better treatment than their scorecards engendered, certainly, with both men acquitting themselves about as well as hoped, neither embarrassing himself, and both men's records now becoming beacons, one hopes, boxing might follow to a better place.
More important for the future of our sport than the milquetoast armistice reached between a promoter and the shell of its rival – review the undercard of Pacquiao-Barrera II for a reminder how well such treaties served aficionados last time – are the losses that adorn the records of both Lomachenko and now Russell, two of the more talented prizefighters in a fantastic division. There's no sense protecting either anymore, in other words, though the plan for promoter Top Rank seemed never to protect Lomachenko in the first place or else never again to serve him an overweight Mexican veteran in South Texas.
Gary Russell was more than at least one of his predecessors, Andre Berto, and likely more than the other of his predecessors, Adrien Broner – though Broner fought much better opposition en route to being undressed by Marcos Maidana than Berto saw en route to Victor Ortiz, and Russell's dossier from the last four years makes Berto look Frochian, though Russell is likeable, not odious, so he'll get forbearance Broner did not (and sell fewer tickets too). In Broner and Berto, aficionados recognized almost immediately profound technical flaws and felt betrayed by a pair of networks that would pretend otherwise, or not know any better despite budgets meriting they should.
With Russell there's some difference in the sense of betrayal's origin – there's a sense poor management has taken a prodigy and made him somewhat ordinary by moving him inappropriately, or not at all, putting altogether too much emphasis on keeping zero down the loss side of his ledger. Russell's manager, Al Haymon, in other words, may be something of a one-trick pony in his means of developing an attraction, and it's a trick Floyd Mayweather Jr. taught him. In the case of Berto, the trick was a good one, truthfully: Andre Berto was able to make multiples more money by having his manager hoodwink HBO than his talent held claims on. Broner was not untalented so much as overhyped, forcing his 0 to go earlier than perhaps it needed to – but then network budgets had thinned considerably by the time Broner fought Gavin Rees, thinned anemic beside the halcyon days of Berto locking horns with a guy on a 1-3 tear like Steve Forbes in 2008.
The New Normal, and all that.
Gary Russell was announcing too many fight dates too late in his development with TBA as his opponent, and a goodish amount of the displeasure knowledgeable folks feel for Haymon's machinations and the effect they've taken – precluding fights, not enabling them – got projected on Russell. That should stop now; Russell is not everything we were told he is, neither is Floyd Mayweather or any Haymon-managed fighter, but then, would Haymon be doing his job correctly if any were?
Lomachenko is a solid prizefighter who is fighting a quality of opposition that far outpaces his professional experience and surely speaks to his amateur accomplishments, age, and someone's avarice – either his, his handlers', or both, since promoter Bob Arum rarely sounds genuinely prouder than when he says, as he did before Julio Cesar Chavez Jr. fought Sergio Martinez, his company does not put fighters in matches for which they are unready. Lomachenko was unready for Orlando Salido, the Mexican who decisioned him just 3 1/2 months ago in San Antonio, in much the same way Gary Russell was unready for Lomachenko on Saturday. (And yes, there's something tragicomic about a sport in which a man with a record of 24-0 is unprepared for a man with a record of 1-1, but then, like World Cup fans, fight aficionados love the sweet suffering that accompanies being a malcontent.)
Lomachenko still shows a crazy aversion to others' body punches, hula-hooping his torso backwards with sincere fright, but he otherwise serves auspicious surprises to opponents, both in his quickness and commitment, that justify most of the confidence he has in himself. And it is to his redounding credit that he complained so little during and after his match with Salido and returned from it so quickly, too.
No longer getting others to fill their dateplanners with a farfetched combination of what potential he showed at 16 and a record built by cheap laborers like Juan Ruiz and Miguel Tamayo, Gary Russell Jr., now, can enjoy the durable sort of esteem that comes from knowing whatever he gets from 24-1 till retirement is earned, forcing him finally to tuck his chin and improve himself in ways the seven fights that directly preceded Saturday's did not.
Bart Barry can be reached at bart.barrys.email (at) gmail.com