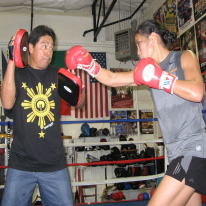 Brampton, Ontario, Canada – Following up on her sensational victory on May 4th over Yolanda Segura, Ana Julaton (11-3-1, 1 KO) steps back into the ring on August 3rd in Kanasin, Mexico against the very dangerous Magali "The Magician" Rodriquez (6-4-1, 3 KOs).
Rodriquez, from Monterrey, Mexico, sports a misleading record as she has been in with some of the best – including two distance fights against the undefeated Janeth Perez, the current WBA Bantamweight Champion. That contest on February 4th was scored a draw when many of the experts at ringside had Rodriquez taking the decision.
"The Magician" relishes the opportunity to pull off a bit of magic in her native Mexico with an upset of Julaton and put her name back into the mix of talented female Mexican stars that have burst onto the world boxing scene.
Julaton's promoter Orion Sports Management with their partners, Yucatan Boxing, have been staging shows in the Yucatan for a number of years and "The Hurricane" is right at home as a result. This will be her fourth major contest there and she brings not only local support in the Yucatan, where she has been nicknamed, "The Yucatan Princess," but also millions of followers back in the Philippines where her career has an eager following based on the exposure provided by the GMA Network. Such will be the case on August 3rd, as GMA has confirmed their intention to continue covering Julaton as she works her way back to the World Championship.
"This another major fight for me," stated Julaton. "Rodriquez is no walk in the park. She will bring it all on August 3rd and I have to be prepared accordingly." Julaton, who yearns to fight in the Philippines, went on to say, "I have asked Allan Tremblay, my Promoter, to make that happen and I know he is undertaking discussions for a contest at home either late in 2012 or early 2013. That will be the ultimate for me. A proud Filipina finally getting a chance to fight in front of my many fans who have been supporting me for so long. This is my dream."
Also appearing on the card are two of Orion Sports highly touted prospects, junior welterweight Felix "El Destino" Mercedes and cruiserweight Milos "The Buffalo Bomber" Pantelic.