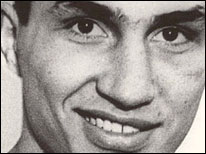 Ring Magazine Heavyweight champion Wladimir Klirschko will defends his titles against former World Cruiserweight champion Jean Marc Mormeck on December 10th in Dusseldorf, Germany according to espn.com's Dan Rafael.
"I know that I am the favorite in all my fights but I also know that each opponent is motivated to be in the best shape ever when he fights me," said Klitschko, who is 17-2 in world title bouts and will be participating in his 20th title fight. "Mormeck is one of the most experienced fighters I have ever faced. He has had many world title fights, has a very good technique, can take a lot of punches and is very intelligent inside the ring. To underestimate him would be a fatal mistake."
In 2007, Haye, also a former cruiserweight champion, went to Mormeck's native France, survived a fourth-round knockdown and rallied to knock him out in the seventh round to win the cruiserweight title.
After the loss, Mormeck (36-4, 22 KOs) took nearly two years off before returning as a heavyweight. He has won each of his three heavyweight bouts against second-tier opposition: Vinny Maddalone, Fres Oquendo and Timur Ibragimov.
"I had Haye on the canvas and shortly before a knockout, which Klitschko could not do," Mormeck said. "What I missed out against Haye I will now do with him. Wladimir has a glass chin which I will break. He cannot stand punches. Against his brother (fellow heavyweight champion) Vitali I would have thought longer about fighting him, but against Wladimir I believe I have very good chances. On Dec. 11, I will travel back to Paris with a suitcase full of championship belts. I enjoy being the underdog in this fight and I will shock the boxing world."