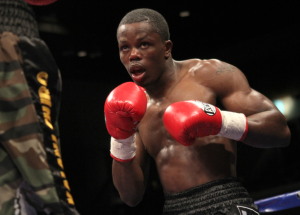 Charismatic super featherweight Lonnie Smith is set to take a big step up in class as he goes to the hometown of world ranked contender Vicente Escobedo for a ten-round regional title bout at the Woodland Community & Senior Center in Woodland, California on Saturday night. For Smith and his team, the fight represents a calculated gamble, but also rare opportunity to enter the mix at 130-pounds in a big way.
Smith (14-2, 10 KOs) of Las Vegas, Nevada has been out of the ring since scoring a third-round stoppage of Eduardo Arcos in late July. However, Smith had been in the gym since the Monday after his last fight, refining his arsenal while his team tried to line up the right fight for him. "We've been working on a lot of stuff," explains Smith, who has had considerable ring time with the likes of Joel Casamayor and prospects Darley Perez and Sharif Bogere among others. "I think we've worked on a lot of the downfalls in my game. I've seen some people that I like and how they fight, and I imitated them and now I mixed it in with my boxing and now I got a new me."
In the months since his July win, several fights had fallen out and others were passed on by Smith. When his promoters Terry and Tommy Lane got the call from Don Chargin about the possibility of an Escobedo fight they brought the offer to Smith thinking he was likely going to pass, but were met with a very different response.
"When the fight was offered to my promoters, they called me," recounts Smith. "I don't know if they knew I was going to take the fight. They offered me other fights that I turned down. But when I heard the name Escobedo and the date March 3rd, I was like yeah, let's do it."
The fact that the offer came in about a month before the fight would take place was part of the reason why Smith surprised his promoters with his quick acceptance of the fight. "There were times I took a fight on two weeks' notice," says Smith. "If you never had a promoter before, you do have to be ready at all times. That's the reason behind me always being in the gym." Another reason Smith jumped at the opportunity was Escobedo was someone that was on his radar already anyway. "Escobedo was a guy on my list," says Smith. "Actually, I even had Daniel Jimenez on my list, and Jimenez beat him. So I was like well, let's do it."
Though Smith has never been in with anyone of Escobedo's caliber before, his confidence level going into this fight gave his promoter assurance this was the right time to take a chance. "Lonnie is really confident," says Terry Lane, CEO of Let's Get It On Promotions. "To him, the fight is just a formality. He is so confident this is going to be a step on the ladder to bigger and better things. He believes he is going to beat this guy that is way more experienced than him and has fought much better fighters than he has on Saturday. He believes he is going to beat him pretty easily."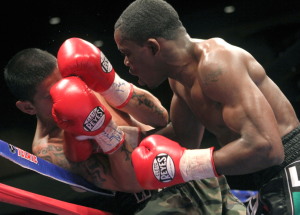 The last time the Lanes gave Smith a tough assignment, in the form of former fringe contender David Rodela last April, he displayed a similar level of belief in himself and went on to score a wide unanimous decision. "When we made that fight, he was extremely confident about taking the fight," recalls Terry Lane. "Obviously, Rodela was a test and a step up, but Lonnie is diligent about taking the fights he thinks he can win. He researches everything he possibly can about fighters before taking a fight. He doesn't take things just to take them. So when he wanted to take that so quickly, at some point as the promoter I have to have a little faith and trust about what my fighter feels about himself. If he feels he can take it and his trainer Skip Kelp feels he can take it and the rest of his team feels he can take it and win, then we will take the fight. He has the same sort of confidence going into this, which makes me feel this is a fight we should take."
One of the fights Smith had passed on in the past was to go to the adopted hometown of ranked contender Eloy Perez and fight him for a regional title. On Saturday Smith will be heading into Woodland, the town in which Escobedo grew up and became one of the country's top amateurs. However, Smith sees it differently. "Eloy never fought outside of California and Eloy wanted the fight in Salinas, California, and I didn't want to go to Salinas to fight him," explains Smith. "I wasn't going to go there and fight him, so that was the choice. But I am going to knock [Escobedo] out. I am going to take the decision in my own hands. I'm not relying on anybody else to get me the fight."
Saturday's fight, which will be the televised main event of Telefutura Solo Boxeo, is for the WBO NABO Super Featherweight title, which essentially guarantees the winner a world ranking. While Escobedo is already ranked by the WBO and IBF and has fought for more significant titles in the past, this will be the first time Smith has had a crack at any belt as a professional.
"Every fight is just as important as the next fight, but this fight is important because this title puts me in the mix," explains Smith, who has been known for his offensive-minded style. "I want this belt to have at the house. I want this belt to hold at night. It is going to be recognition for the time I have put in over these five years of being a pro, with all the mishaps that happen along the way, with fights falling out, bad managers or not having a promoter. Everything is going to work out after I knock this guy out."
Should Smith claim the title on Saturday, he figures to be ranked highest by the WBO, whose current world champion is Adrien Broner. Though Smith cites Broner, a rising star in the sport, as a friend, it is a fight Smith would take under the right circumstances. However, Smith has always had his eyes on another title.
"I mean I would fight my sister if she got in the ring," says Smith, who goes by the ring name of "El Negro Mexicano." "This is a sport, but he is one of my friends. It's not like I am gunning for Broner, just because Eloy decided to take a shot at him and got his ass cracked. I'm looking at the WBC champion [Takahiro Aoh.] Ever since I was a little kid, I have dreamed of having the green belt around my waist. To have another belt I am still in second place, that is how I feel. I want to fight Aoh out in Japan. He is a little maniac. He's a beast. I respect him, but it doesn't matter who has that green belt, I just want that belt."
Obviously Escobedo comes first, but Smith plans to show the world his work in the gym has paid off and he is ready for the challenge. "The guy that fought Rodela was a crazy mad man," Smith says of himself. "I was fixated on doing the best I could and I thought the best I could was to never stop punching. Now I am a little calmer. I have patience. That's how we are going to come out here. Aggressive pressure, but I've found out the point of boxing is to not get hit. Hopefully everyone has seen me fight once or twice and they will have the chance to see that I have matured."
-Smith, ever the self-promoter, would like for his fans reach out to him on Twitter @130lbBEAST and on Facebook at Facebook.com/elnegromexicano.
-Escobedo, a 2004 U.S. Olympian, last fought in his home area in 2009, when he dispatched a faded Kevin Kelley in under two rounds at the ARCO Arena in Sacramento.
– Tickets for Saturday's event, promoted by Golden Boy Promotions, Don Chargin Productions, Paco Presents and Jorge Marron Productions, are available online at PacoPresentsBoxing.com or by calling Paco's Authentic Mexican Restaurant in Woodland at 530-669-7946.
Photos by Stephanie Trapp/trappfotos@gmail.com
Mario Ortega Jr. can be reached at ortega15rds@lycos.com.