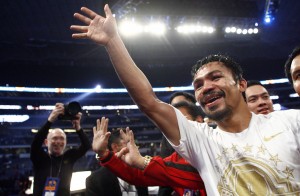 In March we journeyed to Arlington, Tex., to see Cowboys Stadium's first prizefight, one featuring Manny Pacquiao. In November we returned to Arlington, Tex., to see Cowboys Stadium's second prizefight, one featuring Manny Pacquiao. And in May we journey to Las Vegas to see a terrestrial network cover its first prizefight, one featuring Manny Pacquiao.
A cross-country trip to watch CBS cover an event, eh? That might be a bridge too far.
We'll go to see a great prizefight filled with what drama and suspense have defined the Pacquiao Era, then! OK, maybe. But does anyone honestly doubt how the May 7 fight between Pacquiao and Shane Mosley will go at MGM Grand?
In the next three months, of course, some of us will create scenarios that see Mosley prevailing over Pacquiao in an upset. And bless us for it; such exercises keep the mind spry. But would any of us actually bet Mosley?
Not if he bet Antonio Margarito, Joshua Clottey, Miguel Cotto or Ricky Hatton – the last four Pacquiao opponents. None of those choices drew quite the initial derision among aficionados Mosley did, either.
But that was before CBS. As part of promoter Top Rank's new relationship with Showtime, apparently, parent network CBS will broadcast an infomercial for Pacquiao-Mosley sometime before the fight. Good for Pacquiao. Good for Mosley. Good for Showtime. Good for Top Rank. And good for boxing.
Not so fast. This fight is not for you, the serious fan. This fight is for that elusive crossover guy boxing endeavors to seduce on a triannual basis. You know him. He asks you when Mike Tyson's coming back while asking himself who would win a match between Clubber Lang and a prime Muhammad Ali.
Right, sure, but don't be a curmudgeon. Remember, a rising tide lifts all boats.
But is Pacquiao-Mosley a rising tide, or merely a rising boat? Last year, Pacquiao enjoyed two of his career's handsomest paydays. And his reluctant nemesis, Floyd Mayweather Jr., enjoyed one as well. But what good, really, did these do the sport of boxing?
Websites like this one have never been in a worse financial spot. Pacquiao may be his country's most-famous figure, but is he actually recognizable to the 113 million American households that did not buy his last pay-per-view event? And Mayweather, for all the interest in prizefighting he supposedly brought to the black community, didn't have an enduring enough effect to bring even 1,000 members of that community to "The Super Fight" a couple Saturdays ago.
No, friends, you are not obligated to attend Pacquiao-Mosley as part of some brand-of-boxing loyalty oath. And that's good, too, because tickets for the fight apparently sold-out days before they went on sale.
In the spirit of your new liberty, then, how about trying something different? Like, say, the finals of Showtime's Bantamweight Tournament on April 23 in Los Angeles' Nokia Theatre. That card will feature two great fights: Ghana's Joseph King Kong Agbeko versus Mexico's Abner Mares, and Colombian Yonnhy Perez versus Armenian Vic Darchinyan. It will also establish a challenger for the winner of Nonito Donaire's upcoming bantamweight title fight with Fernando Montiel.
And as Donaire-Montiel is a Top Rank promotion, and Top Rank is now allied with Showtime – and CBS! – there's no reason to think the world's best bantamweight prizefighter will not be crowned by the end of 2011.
Look, fans in the target demographic for Pacquiao-Mosley have no idea there's a Ghanaian who once wore a gorilla mask and manacles during ringwalks. Fans who currently know Shane Mosley solely as "that guy with the same nickname as Leonard and Robinson" have no idea Mares went chest-to-chest and foul-for-foul with Darchinyan in December, and beat him. And there's little possibility anyone desperately scouring online brokers for Pacquiao-Mosley tickets (if such a man exists) has any idea the consolation match of the Bantamweight Tournament could be better than its championship is.
Tickets will be a fraction as expensive for the Los Angeles card in April as they are for boxing's big chance on CBS in May. And even with prices good and low, Bantamweight Tournament tickets will be in abundance.
Which leads us to the reason you can merrily play contrarian with a card promoted by Bob Arum's Top Rank: They don't need you. Top Rank is the infrastructural master of prizefighting promotion. Never was this clearer than after January's trip to Silverdome – a venue that, working as a team, Don King and Gary Shaw failed to fill effectively as Top Rank filled just Cowboys Stadium's East Side Plaza in November.
Golden Boy Promotions is the second strongest promoter out there, yes, but it's a distant second. And their participation in the Bantamweight Tournament may not be more than tertiary. For all the praise Oscar De La Hoya and Richard Schaefer garnered four or five years ago, it has been quite a while since anyone's appended the modifier "imaginative" to anything coming out of their shop.
And here's something else to worry about while we get spiffed up for our big CBS debut: We aren't ready for primetime. Underlying all our support for the recent terrestrial-network development is an assumption that if we could only get our sport force-fed to the public as, say, the NFL does, boxing would be popular as football.
Don't be so sure. There's a very real chance the quality of the product boxing offers – for many reasons but none so much as managers' selecting of fighters according to television programmers' tastes – is subpar. The fights we offer today may not be good as the ones we offered 25 years ago.
If that's the case, four 118-pounders fighting in a 7,000-seat venue is likely the future of superfights much more than is Pacquiao-Mosley on CBS. Going to Los Angeles in May, then, is a good way to reward four deserving fighters, and maybe look like a visionary while doing it.
Bart Barry can be reached on Twitter via @bartbarry