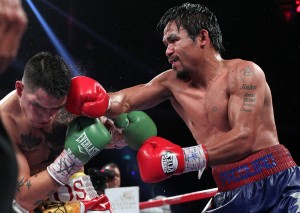 Saturday at Venetian Resort in Macau a passable imitation of Filipino welterweight Manny Pacquiao whacked about American Brandon Rios in a passable imitation of a Las Vegas superfight. Pacquiao won 11 rounds unanimously while looking less powerful and less precise – the margins by which he feels comfortable making an opponent miss have widened since December last, understandably – and less joyful than the man who once made prizefighting his enchanting spectacle.
Symmetrically enough, Manny Pacquiao looked like nothing so much as Macau, the knockoff host city of his first pay-per-view event in China. Pacquiao was not new in any way, not the labeling or haircut or faith tradition or commitment to extirpating poverty with yellow gloves; he was not the same-old Pacquiao so much as the same, old Pacquiao – much as Macau is nothing new but a taupe version of the Las Vegas strip, as if the deities of Nevada, Steve Wynn and company, picked the seventh day both for resting and constructing Macau, finding in their original blueprints a need to revise only scale, calculating quite rightly no one in China who'd seen Las Vegas would want anything but Las Vegas, and no one with a choice would pick Macau.
Pacquiao was a labor to watch at times, such a labor in fact Pacquiao's body language afforded Roy Jones his chance to make a first insightful comment in 2013, remarking that Pacquiao appeared to be enduring his work more than whistling through it as Rios did, whistling even as Pacquiao's fists whistled into every spot on his face. Pacquiao did not look spectacular Saturday. He fought like a talented guy who needs to fight for a paycheck and may have to for a long time yet, conserving his vigor and casting immediate glances the referee's way soon as Brandon Rios, given the choice to fight every instant or be hurt quite badly by a man many times his better, hit him with a free hand during clinches.
The moment of Pacquiao's rebuttal to the first incidence of this was probably the match's most telling, as the Filipino did not remove himself, bounce enthusiastically, slam his gloves together, raise his hands, smile, then leap in the fray with a historic enthusiasm for combat – at all. Pacquiao affixed a grimace on his face and snapped left crosses from his southpaw stance hard as he possibly could, investing every punch with whatever he knows and everything he senses about the physics of leverage, trying to terminate Rios' effrontery with something ferocious, concussing and spectacular. It was in some sense Pacquiao's rendition of Floyd Mayweather's reaction to being butted by Victor Ortiz.
It was the reaction of a man who now feels most every punch and finds himself forced even by an opponent limited as Rios into moments of empathy instead of so much seemly sympathy it once spilled from the corners of his mouth in gentle smiles for what men he stiffened. In his prime, a prime that is now passed, Pacquiao showed such sympathetic joy – "I'm sorry either of us has to go through this but since we agreed one of us did, it's fantastic to be me and not you!" – an observer sometimes forgot Pacquiao was in a fight at all.
A sense of joy is what one now misses most during a Pacquiao fight; he is a very good and innovative Filipino southpaw, a Manny Pacquiao imitator still better at the act than those whom promoter Top Rank used to stage during Friday casting calls on Pacquiao weekends, but he shows nary the same enthusiasm or novelty. Today Pacquiao fights like taglines for others' matches, "Revenge!" or "Something to Prove!" or "This Time It's Personal!"; gone is the otherworldly quality he shone, the awe he felt others experiencing, the awe he too felt in rare moments of autobiographical reflection.
Pacquiao beat up Rios much the way he beat up Antonio Margarito three years ago in a fight friend and colleague Norm Frauenheim quite insightfully suggests was the one that changed Pacquiao's trajectory – when has he looked sensational since? – and Frauenheim suggests this because he was with a comparatively small cadre of media at the postfight press conference, somewhere underneath Cowboys Stadium an hour after Jerry Jones said good riddance to boxing, when Pacquiao admitted the body shot Margarito touched him with in the sixth changed things: "I'm lucky to have survived that round."
Rios won as many unanimous rounds against Pacquiao as Margarito did, and if Rios' orbital bone is still intact unlike Margarito's it is likely more attributable to Pacquiao's diminished power than Rios' defensive mastery, an approach to self-protection that reduced to his hoping to counter the fifth flush shot in a combination, which required hoping his opponent didn't get bored with striking him after four clean shots – the way Pacquiao did several times Saturday. Rios was typically defiant after losing 11 rounds on sympathetic scorecards, chiding those who predicted Pacquiao would make a heavybag of him moments after Pacquiao made a heavybag of him.
Pacquiao did nothing Saturday against former 140-pound titlist Brandon Rios to make anyone think he might finally beat Floyd Mayweather, a man who had less trouble with 154-pound titlist Saul Alvarez in September. Instead, to make the sort of money he now expects and probably needs, Pacquiao will have to try his luck in a rematch with Timothy Bradley or his chin in a fifth fight with Juan Manuel Marquez, and if either those matches lands in Macau it's doubtful anyone in Las Vegas will miss it.
Bart Barry can be reached at bart.barrys.email (at) gmail.com