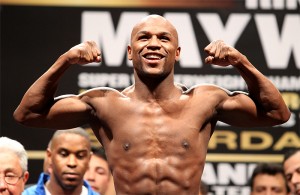 According to Dan Rafael of espn.com, Pound for Pound King Floyd Mayweather will look to get back in the ring on May 4th and then again on September 14th which are the two most desirable dates on the boxing calender as they fall on Cinco De Mayo and Mexican Independence Day.
"Floyd has told us that he is fighting twice in 2013 with the first date being May 4 — Cinco De Mayweather — and the second date being Sept. 14," said Maweather's adviser Leonard Ellerbe.
"Mayweather Promotions is looking forward to these two gigantic Floyd Mayweather events in 2013, and we are in ongoing discussions with our promotional partner, Richard Schaefer (chief executive of Golden Boy Promotions) in finalizing the opponent and other aspects of the upcoming promotion."
Ellerbe said Mayweather told him and fellow adviser Al Haymon in a recent telephone conversation to begin planning the May fight.
"He told me and Al this is what he is doing," Ellerbe said.
"He's been in the gym. Floyd is always keeping his body in shape doing something because he's a great athlete and that's what great athletes do," Ellerbe said.
No announcement on Mayweather's opponent but the article painted a scenario where Mayweather could possibly face Robert Guerrero on the May 4th date and a showdown with Canelo Alvarez on the September date. That sceario could possibly see Alvarez fight as the chief support bout on May 4th
"That is still to be determined," Ellerbe said of the weight and opponent. "He is just looking to come back in two gigantic fights in 2013 and continue to show why he is the best in boxing."
"Floyd Mayweather has a plethora of options," Ellerbe said. "Who doesn't want to fight Floyd 'Money' Mayweather and make the most money they ever made in their career? You hit the lottery once you've become a Floyd Mayweather opponent."