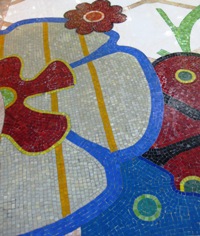 LAS VEGAS – Only prizefighting, among all sports, is able to induce a vicarious sensation so near to personal tragedy one's mind, in a headlong rush for homeostasis, begins to tamper with its stimuli, misreading moments and writing them in memory more creatively than truthfully. To see a man so large in what gorgeous violence he perpetrates on another suddenly diminished, panicked, desperately swimming towards his foe like a drowning child after pool's edge, is to witness sport extended to its legal limit.
That is what happened Saturday in the final two minutes of 37-year old Argentine Sergio "Maravilla" Martinez's successful defense of his lineal middleweight championship against 26-year old Mexican titlist Julio Cesar Chavez Jr. at Thomas & Mack Center, a match Martinez won by lopsided unanimous-decision scores after being forced to the blue mat twice in its 12th round.
There was "Maravilla" in the final 80 seconds, eyes big, body failing, fright both overwhelming and accelerating his exhaustion – the man who boasted before training camp that in his matches "99 percent is studied" beforehand; every wink, every straightening of his trunks, every shoulder shimmy, every smile, every word, all of it, devised in his downtime, planned in his training, executed by a tyrannical actor/director who does not abide improvisation on the set after a bell calls Action. Then none of it was planned.
Felled as much by fatigue as Chavez's short left hook, a punch that hadn't found a meaningful mark more than a pair of times in Chavez's 34 1/2 minutes of winging it, Martinez emoted a confused panic even he didn't know was in his theatrical range. Martinez rose and tackled Chavez, causing a second knockdown ruled a slip because it didn't matter how it was ruled because the scorecard never mattered a whit to Chavez. Entirely unconscious of himself or strategy or script, Martinez fought a just-exhausted-enough Chavez off him in a minute that Martinez's curious mind and creative memory will now stretch to a width most hours of his life will not rival for duration or anxiety.
Anxiety was the large part of that extraordinary final minute. After a 10th round that saw Chavez cast his fourth and fifth urgent and nearly hopeless glances at referee Tony Weeks, beseeching him to do something about Martinez's low punches or dangerous head, the Argentines in the arena began to serenade their champion and each other. They filled Thomas & Mack with song. A Buenos Aires fútbol rally in the middle of a city that was once Mexico, on the weekend of El 16 de Septiembre: ¡Pinches argentinos, hijos de la Chingada!
After the 11th, a round that saw Chavez land his most meaningful right hand of the evening then see another rally extinguished by Martinez's sense of the moment and its augmentative, momentum, the aisle in section 112 began to fill with well-dressed Mexicans stomping up the stairs towards the exit. There was no suspense at the end of the 11th, and let no one tell you otherwise.
The suspense happened when the bell to begin the 12th rang and Chavez remained on his stool. Martinez raised both hands above his head, certain he'd beaten "Son of the Legend" yellow on the eve of Mexican Independence Day. Then Chavez, that child of privilege and man of an eccentric nonchalance almost goofy, showed Martinez his mouthguard and hopped off his stool.
When Chavez's left hook came home and Martinez's wondrous legs finally failed him moments later, an energy coursed through Thomas & Mack Center like no other. It was a catharsis whose pursuit is the very reason any self-respecting experientialist pays his airfare to Vegas and endures its gauche price-gouging ways – to experience a mindless union with 18,000 others, a burst of something so chemically pure the body hates it, an intensity unendurable for more than a few seconds. The moment could not have been improved upon; its potency was a product of surprise: "Maravilla" in an instant diminished, worn, fragile, spent, withered, more miserable than he'd made Chavez in a half hour of smacking his face with knuckles.
Does it detract from the moment to price it? Surely it does, but that's why it's called prizefighting after all. The most terrifying moment of Sergio Martinez's career will be the one that makes him a much wealthier man. He is now damaged and old, more likely to find underestimation than over. Somewhere from Floyd Mayweather's fighting soul – the sacred part of him as yet unsullied by "Money" – there must today be a voice that says, "You're gonna tell me I gotta avoid a guy Little Chavez had out?"
And while Julio Cesar Chavez Jr., right now, knows just how physically ruinous Martinez's 300 flush blows were to his young body and younger brain, Mexicanismo will ensure he forgets posthaste: "¿Qué haría tu papá, Júnior?"
Whatever he said about it afterwards on Saturday night, his head still thrumming with concussion and ears throbbing each beat of his heart, Sergio Martinez is too introspective, too gentle-spirited, not to have doubt. "Maravilla" is not delusional and does not wish to become so. He fought Chavez perfectly Saturday, just enough playfulness and just enough clean striking and just enough macho, and came within a punch of drowning. It will not be lost on him what will come if he fights imperfectly in a rematch.
Bart Barry can be reached at bart.barrys.email (at) gmail.com