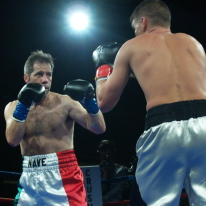 Liberty Boxing Enterprises presents world class professional boxing at Albert Park Field, outside under the lights in San Rafael, California on Friday, October 19, 2012.
In the twilight of his career, former World Welterweight Champion Paul Nave, "The Marin County Assassin" of San Anselmo, CA will fight once again at Albert Park Field in San Rafael, CA against an opponent yet to be determined. Nave last fought on September 16, 2011, four days shy of his 51st Birthday at Albert Park Field, losing a very close hard fought decision to undefeated 24 year old Brandon Hoskins, "The Pride of Missouri" from Hannibal, MO at welterweight in an eight round main-event. It was Nave's first loss in his last five bouts, since returning to the ring on March 06, 2009 after a ten year sabbatical.
Matched for the undercard in an intriguing four round lightweight female rematch is Laura Deanovic from San Francisco, CA against Claudia Amaro of Fresno, CA. In their first bout, Amaro narrowly defeated Deanovic in a closely contested bout. In a four round contest at lightweight is Ulises Soriano Jr., from Richmond, CA against Pedro Trejo Munoz of San Francisco, CA. Patrick Ragan, middleweight and gym owner of Westside Boxing Club in San Mateo, CA will make his pro debut at 47 years old in a four-rounder against John Dunham of Stockton, CA. Aldwayne Simpson from Richmond, CA will fight a four round bout at welterweight against Jovanni Rubio of Santa Rosa, CA. Also proposed for the card in four round bouts are lightweight Marquita Lee of Novato, CA and Cruiserweight Cody Kralyevich of San Jose, CA against opponents to be announced. All bouts are subject to change and approval of the CA State Athletic Commission.
Tickets for the event are available at Liberty Boxing Enterprises (415) 454-1113, San Rafael Joe's in San Rafael (415) 456-2425, T&B Sports in San Rafael (415) 453-2433, Perry's Delicatessen in Fairfax (415) 456-3580, Nave's Bar & Grill in Fairfax (415) 457-3220, Perry's Delicatessen in Novato (415) 892-3240, Marin Coffee Roasters in San Anselmo (415) 258-9549, D. F. Gym in Richmond (510) 237-9703 or online at Ticketmaster.com.