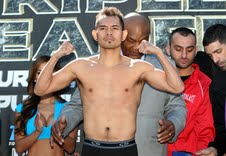 CORPUS CHRISTI, Texas – There is a gorgeousness to the seashore that is difficult to debase, and yet this town nearly does it, lining its bay and neighboring stretches with gray oil rigs, not what cute rockinghorses play acupuncture on the state's bare terrain, but edifice-like seascrapers that block the horizon in a way sometimes impenetrable. You see them on I-37 South, after two hours' driving from San Antonio, and you go quickly from wondering when the hell you're going to get there to worrying you are there. And you are there.
If this steamy spot, humid enough to make you sweat on its seawall even at midnight on November's second Saturday, is not nearly the tourist-friendly locale its lodging prices anticipate, it is not a bad place at all for a prizefight, and even an apropos venue for the wonderful violence "Filipino Flash" Nonito Donaire and Vic "Raging Bull" Darchinyan visited on one another, Saturday, in a 10-round titleless scrap Donaire won by brutal stoppage in the ninth.
Donaire showed us he is a fighter – that was the thought that came to mind at the end of his rematch with Darchinyan, one that was significantly more competitive than hoped. Donaire was a skittish, super-talented but still skittish, young man when he iced Darchinyan more than six years ago and genuinely shocked the tiny world of aficionados in 2007 by running the so-called Raging Bull into a fit of his own menace, and a gorgeous left hook, that uncovered an unknown vulnerability in Darchinyan.
Donaire was in only his 19th professional match, and Darchinyan (28-0, 21 KOs) was about to make the seventh defense of his IBF flyweight title, four months after mercilessly beating little Victor Burgos to a coma, nine months to the day after blitzing and breaking Donaire's older brother Glenn in six rounds. Donaire successfully endured 13 1/2 minutes of Darchinyan rage, a surprise to most, then put a counter left hook on Darchinyan, a southpaw in full self-hurl, left hand and body cocked in a defensively indefensible way. When Donaire put that left hand on him with precision and grace he sent the bully of all boxing bullies stumbling drunkenly about, down then up then down then legless then down again, smiting the mean little bastard Darchinyan was, a man whose spirit manifested itself perfectly in the sharp-featured scowl and hatred-contorted grimace he made whenever he punched the hell out of men best as he could.
Darchinyan, then, was a man whose promoter at the time, Gary Shaw, had to remind him to show an iota of decorum while paramedics tried to save Burgos' life a few feet away, salvage what vital signs remained after Darchinyan finished savaging for 34 1/2 minutes an opponent who looked three weightclasses mismatched for a live-television tragedy that remains, today, an enduring companion for the word "preordained." When Donaire iced that man, he did boxing, and humanity too, it seemed, a plethora of favors. Darchinyan, a bully to the last, accused officials of conspiring against him with an early stoppage – rather than thank what two sets of ropes twice kept him from careering into snack bars a hundred feet away.
Donaire became instantly an aficionado's fighter, left his promoter soon thereafter and with Top Rank's help squandered heaps of goodwill by appearing on "Pinoy Power" pay-per-view telecasts, occupying for a dwindling number of fans the ethnic on-deck circle while Manny Pacquiao was at bat. Donaire came out of hiding in 2011 in a most spectacular way, dropping with gorgeous precision, on HBO, Mexican Fernando Montiel, a prodigy of matchmaking who dropped a lackluster decision to Jhonny Gonzalez in 2006 but reemerged 57 months later as one of the sport's most-feared men, somehow, just in time to get chloroformed by Donaire in five minutes. And HBO commentators stamped the moment with a hysterical overreaction that is become their trademark, declaring Donaire a prodigy of the first order.
Donaire squandered that goodwill, too, and quickly, with an attempt to leave promoter Top Rank just as its investment in him was about to go in the black. That got Donaire matched on HBO against Omar Narvaez, a Patagonian with no plans to get Montieled and all the wherewithal and toughness to ensure the increasingly prettified Filipino could make nothing of their 36 minutes together, turning in an aesthetic spectacle atrocious enough for a B-Hop execution. Donaire spent 2012 garnering incredible praise for voluntarily submitting to anti-doping tests and blasting through decreasing competition before being conclusively outclassed by Cuban Guillermo Rigondeaux in April – a promotional nightmare from which HBO and Top Rank still stubbornly refuse to awake.
All of which led to Saturday's spectacle against Vic Darchninyan, Donaire's second opponent of the year who hadn't plans to lose to him and may have held him in contempt, too – or in Darchinyan's case, loudly and plainly held Donaire in contempt in the pit of the Armenian's charred soul. Along the way, too, too, Darchinyan remembered he once outboxed Mexican Cristian Mijares, then one of our sport's craftiest wizards, and struck an oddly prudent posture in the opening minutes. But Darchinyan was outfighting and outboxing Donaire through eight rounds, Saturday – at ringside, I had Darchinyan up by three points, and two judges had a wider margin still – when Donaire golfed him with a counter hook he'd set the entirety of his fortune on. After that, he fixed a Darchinyan-like scowl on his mug and pounded the Raging Bull like he'd paid for it.
It was Donaire as fighter, a version we'd not before seen and might not see again, but a sight that wholly justified a five-hour roundtrip from San Antonio to this scruffy seaport.
Bart Barry can be reached at bart.barrys.email (at) gmail.com
Photo By Chris Farina / Top Rank