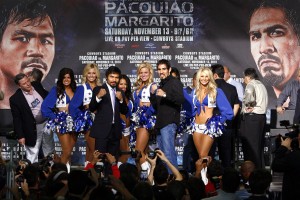 ARLINGTON, Tex. – Unless the weekend's combatants come to blows on the dais itself, Wednesday press conferences usually are dull affairs. Television executives, beer sponsors, secondary and tertiary promoters, personal trainers, all, read rehearsed remarks to writers who patiently await lunch. Business as usual.
The president of a sanctioning body, though, can be a refreshingly different story – as the media learned at Cowboys Stadium.
Wednesday afternoon in the final pre-fight press conference Filipino Manny Pacquiao and Mexican Antonio Margarito will have to attend before their Friday weigh-in, the president of the World Boxing Council, Jose Sulaiman, made his way to the podium and stole the show. More about Mr. Sulaiman in a bit.
Pacquiao and Margarito and their entourages gathered in the "House that Jerry Built" – though the builder, Dallas Cowboys owner Jerry Jones, was not present – to say one last time that they were ready for one another.
Pacquiao, introduced by promoter Bob Arum as "the greatest credit, in our era, to the history of boxing," presented his customarily likable self, filled with a gracious smile, words of thanks for everyone gathered, and a becoming humility that has not changed one bit throughout his rise to international prominence.
His opponent in Saturday's superfight, Antonio Margarito, cut a grimmer figure. Exonerated fully by his promoter, if no one else, for the illegal inserts found in his hand wraps before a 2009 fight with Shane Mosley, Margarito and his team have recently acted several times in questionable taste. There was the footage of Margarito wrapping a piece of concrete over his knuckles during the second episode of HBO's "24/7" series. And now footage of several people, from Margarito's camp, imitating the effects of Pacquiao trainer Freddie Roach's Parkinson's disease has surfaced on YouTube.
Margarito trainer Robert Garcia spoke at the podium about this, Wednesday, saying that he had admonished his fighters about inappropriate behavior like that in his gym. He further explained that one of his fighters claimed not to know even that Roach has Parkinson's disease. Garcia did not, however, simply turn a few degrees to his right and offer an apology to Roach.
Freddie Roach, for his part, did not address the Margarito camp at all, preferring to focus on Congressman Pacquiao's initial distractions.
"Little bit of a different training camp this time," Roach said from the podium. "Just a little bit mental at first. (Pacquiao) wasn't 100 percent there."
But things did apparently improve when the camp relocated from the Philippines to California, and Roach saw no reason for concern.
All of those statements, though, were preceded by Jose Sulaiman, president of the WBC. Dressed in a silver suit with a white shirt and blue tie, Sulaiman ambled to the podium, apologized for his English and then offered Wednesday's most entertaining spectacle.
He asked who could have imagined, way back in a time of short pants, that his friend Bob Arum would grow to become boxing's "greatest promoter." When that title was inadequate, Sulaiman then announced the WBC's annual convention had just voted, unanimously, to declare that "in the 300-year history of the WBC," Arum was one of boxing's "two greatest promoters." And then Sulaiman presented to Arum a curious piece of hardware that appeared to be a gray figurine balanced on green felt.
Finding his stride, Sulaiman next explained the colors of his suit. In a nod to Cowboys Stadium, Sulaiman declared not just himself but also his family "Cowboys." He raised his blue tie and waved it at the media for dramatic effect before proclaiming the depth of his clan's loyalty to Dallas' professional football team:
"We cry when they lose, and we get drunk when they win!"
Friday's Pacquiao-Margarito weigh-in will take place at Cowboys Stadium at 5:00 PM local time and will be open to the public.
Photo by Chris Farina / Top Rank