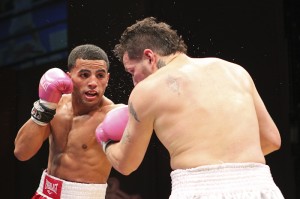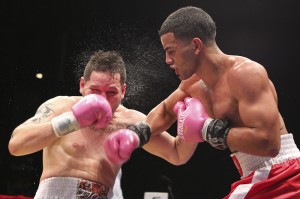 Unbeaten super lightweight prospect Ray 'Tito' Serrano (17-0, 8KOs) kept his unbeaten record with a tougher than expected unanimous decision win over the very tough Angel Rios (9-8, 6KOs) after ten heated rounds. Both combatants fought at close quarters, but it was Serrano's superior technique and defense that prevailed. Rios was the aggressor, stalking his faster and mobile opponent and occasionally landed effective shots to the body. Serrano controlled the action in the early rounds by timing his jab and exploited his openings by landing swift combinations. Rios had his best round in the fourth when he landed a hard overhand right, but Serrano quickly recovered and continued to box in and out to befuddle his shorter and slower foe. Things heated up in the eighth when Rios verbally taunted Serrano and both fighters landed clean shots to the chin. Rios, knowing that he's behind, fought with determination in the ninth, but Serrano's technique was the factor. Both guys fought hard to the finish and Serrano held the edge in landing cleaner shots. Scores were initially announced incorrectly, but Serrano wins regardless via unanimous decision.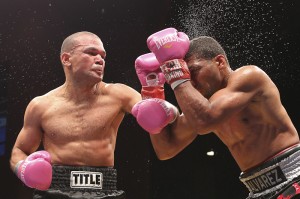 In a shocker, unheralded Doel Carrasquillo (16-18-1, 14KOs) upset local hero Shamone Alvarez (21-5, 12KOs) after five punishing rounds scheduled for eight in a welterweight contest. The Atlantic City native wasted no time taking it to his opponent, charging with hard shots to the body in the opening seconds, but walked into a hard left hook that dropped him for an eight count. Alvarez rose back, but on shaky legs and was hurt again with an onslaught of left overhand rights and hooks by Carrasquillo. A series of uppercut dropped Alvarez again in the second, but the veteran managed to get up and survive the round. Alvarez, who's had many of his fights here in Atlantic City, used all of his experience to stay in to remain competitive. In rounds three and four, he was able to stick and move and appeared to be outboxing his one-dimensional foe. Every punch Carrasquillo landed seemed to matter, stunning Alvarez with every punch that found its mark. However, Carrasquillo unleashed another attack in the beginning of fifth, landing hard hooks to the head that again dropped Alvarez. The ref allowed the fight to resume, but Alvarez was hit and staggered again, prompting his corner to alert the ref to stop the fight. The official time of the stoppage was 1:16.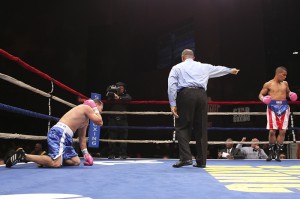 Union City, NJ's Jason Escalera (12-0, 11KOs) quickly disposed of Kansas City, MO's Mickey Scarborough (6-4, 6KOs) in two rounds. Escalera virtually landed the same right hands three times, which each punch sending his mismatched opponent to the canvas. Scarborough somehow beat the count each time, but was blasted out in the second round when he was again hit by a right hand.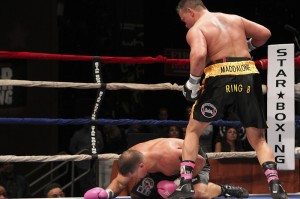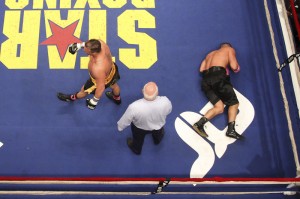 Also in action, popular heavyweight Vinnie Maddalone pleased the Atlantic City crowd with an exciting first round KO over West Vrginia's Mike Sheppard. Maddalone was quick to find his mark and hurt Sheppard with a right hand. Smelling blood, Maddalone went for the finish with a crippling left hook to the body that dropped Sheppard for a full ten count at the 1:22 mark.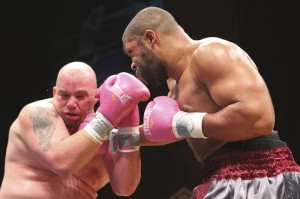 Heavyweight Chazz Witherspoon (29-2, 21 KO's) took out an overmatched Tyson Cobb (14-3) in round three of their scheduled eight round Heavyweight bout. Witherspoon dropped Cobb with three times in round two with hard combinations. The third knockdown came from vicious body punch at the end of the round. Witherspoon didn't waste time as he landed a booming right that sent Cobb plummeting to the canvas as 1:07 of round three .
Photos by Ed Diller/Star Boxing