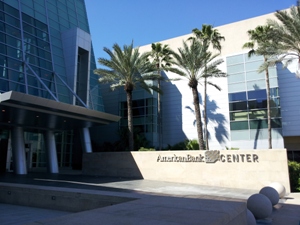 CORPUS CHRISTI, Texas – If you were here in the beautiful coastal climes of the Gulf, 65 degrees with a cool saltwater wind, you felt differently about "Triple Threat" than if you were not. The ringside experience, with its emptied press-row tables, unfamiliar faces and well-lubricated fans just beyond, had none of the rabid emotion – investigate this! protest that! suspend the other guy! – sincerely expressed by those who were not at American Bank Center Arena.
Make of that what you wish, after you consider that television's primary role is entertainment. Television succeeds when it provokes strong emotion. To assign it greater merit than entertainment is to overestimate the medium.
Saturday on the Bay brought a swirl of emotions and impressions and other happenings. They ranged from a feeling of disappointment to a narrative of injustice to an inference of unapproachable rage and ultimately ended, as these swirls inevitably do, with exhaustion and boredom. If that is unfair to a semi-rehabilitated fighter or a wronged one, or his outraged manager set to file protest Monday, it is nevertheless honest – though oblivious of what narratives shape it.
There is likely no lead here, just an unkempt swirl of hastily chosen words. But that might be the best way to express a rage that was directly proportionate to one's distance from its catalyst.
Art Museum of South Texas, which shares a lovely spot and parking lot with Saturday's fight venue – which had half its 10,000 seats curtained off and its upper bowl closed – is running a three-month exhibit called "Art of the Dive: Portraits of the Deep," an appropriate subject for a collection that overlooks the Bay. The exhibit is a mild disappointment, with a few pleasant surprises that use impasto.
It has some good works of photo realism, a movement that is better than photography when done right because it accesses thrice the color palette of a lens and film. But it is a movement still subverted by a thought: Did the artist paint this or trace it?
It must not be a simple task to present subaqueous themes; what we know of them is already passed through multiple filters – diving mask, bubbles, refracted light – and anticipated for most of us by television cameras.
Do not discount the importance of anticipation; it colors what follows. If, to use a timely example, you anticipated a tightly wound knockout artist would fade against a loose-handed, stiff-legged, southpaw cutie whose mastery is regularly missed by fair judges – none of whom ply their trade in the crooked Lone Star Republic – you might see something different from a person, say, who showed up to watch the main event and didn't think many thoughts during the co-main aside from: Yes, enjoyable!
But O, to borrow Shakespeare, for in every honest hand a whip / To lash the rascals naked through the world / Even from Houston to th' El Paso.
Very well. But do not consider a team of broadcasters much more than a single voice. And do not cite the disapproval of a Spanish-speaking crowd deep in its cups and stirred by a black promoter's earlier employment of an ethnic slur. Few of the thousands in attendance would recognize Tavoris Cloud in a diner tomorrow morning, but they began without hesitation a chorus of "Don King sucks!" after a Spanish-speaking challenger lost to King's fighter.
That was in Saturday's best match, a scrap for the IBF light heavyweight belt. Florida's Tavoris "Thunder" Cloud defeated Spanish southpaw Gabriel "Chico Guapo" Campillo by scores (116-110, 111-115 and 114-112) that were outrageous on Twitter and TV and almost right at ringside, where an inexperienced local press corps – guys who later argued the WBC International Silver belt denoted a championship at stake – barely shrugged.
Reasonable men at ringside, too, had Cloud narrowly winning. We'll take our lashings. But when a fighter who lost a round 10-7, never hurt his opponent, and cruised and clowned during the championship rounds, then loses a split decision, do not yell "robbery!" if you wish to be considered reasonable.
Campillo won on many viewers' cards because he did what they thought he would do, which is to imply their scorecards were not blank when the opening bell rang. Alas, no one's scorecard ever is.
Chris Arreola, the ticket-seller in South Texas, took umbrage with Don King's use of the word "wetback" and then took it out on Texas heavyweight Eric Molina, making a wondrous 150 seconds of violence, punctuated by a decisive overhand right. Arreola's gatekeeper disgust with King's saying "wetback" at a Thursday press conference was not forced, but neither was it devoid of theatrics. Nothing Arreola does in public is.
"I'm a commodity," Arreola said Saturday. "A big Mexican commodity."
Arreola is a fine showman who is quieter and more approachable in reality than on television. King, a fine showman of his own who clearly did not intend offense and rebutted "We all wetbacks, baby," chose his words poorly and got roundly booed by American Bank Center, which was justice enough – no need for a coerced apology or further gnashing of teeth.
Paul Williams, ostensibly "Triple Threat's" main-event draw, won a decision over Nobuhiro Ishida, a sturdy Japanese super welterweight, in a fight that put the arena to sleep, regardless of its participants' activity. Hundreds of punches were thrown and landed in 36 minutes – question never Williams' activity or desire – and yet writers played on their cell phones and fans discussed ring-card girls' asses, while Williams outclassed Ishida.
Why a Williams fight is boring is hard to say. That it is boring, though, is not. It is difficult to read Williams' biography or watch him politely interact with people at a weigh-in and cheer against him. It is just as difficult, unfortunately, to look forward to his next fight.
Bart Barry can be reached at [email protected]