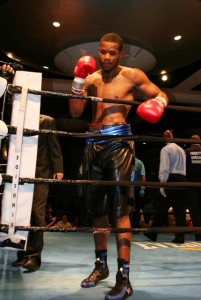 ATLANTIC CITY (July 4, 2012)—This Saturday night at Ballys in Atlantic City, undefeated Light Heavyweight sensation Lavarn "Baby Bowe" Harvell will look to thrill the hometown fans when he takes on Mojeed Okedara in a six round bout.
Harvell, 11-0 with six knockouts has scored three straight knockouts with the last two being two of the more vicious stoppages in recent memory when he stopped Anthony Pietrantonio on April 28th and Brian Donahue on June 13th in the 3rd and 1st rounds respectively.
The Atlantic City native's knockout was a featured photo in the New York Times that was seen throughout the world.
"The knockouts are a product of being in shape and prepared to fight", said Harvell
"I am definitely improved and the knockouts are coming because I am just letting my shots go and not forcing anything"
Okedara of Nigeria will be making his American debut and has a record of 9-5 with eight knockouts.
"The fact that all I know is he is from a Africa makes me train harder because I don't know much about him", continued Harvell
Harvell will be fighting in from of his hometown fans in Atlantic City for the ninth time and it inspires him knowing that there will be a lot of fans cheering for him.
"I am always excited to fight in Atlantic City and I am always looking to put on a good show"
Harvell is trained and co-managed by Abdur Muhammad and co-managed by Vito Mielnicki.
Harvell is promoted by Gabe LaConte's First round Promotions
Harvell – Okedara will be part of an eight bout card promoted by Peltz Boxing and can be seen LIVE all over the world on www.gfl.tv and can be accessed for just $9.99 by clicking: http://www.gfl.tv/Events/Fight/Boxing/Peltz_Boxing_at_Ballys__Majewski_vs_Fitzpatrick/1563
Photo Credit: Maria Renee / www.mariareneephotos.net