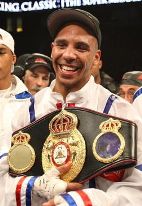 According to Dan Rafael of espn.com a tremendous bout between Light Heavyweight champion Chad Dawson & Super Middleweight champion Andre Ward is being worked on for the fall.
"We have two fighters in their primes, two lineal champions. I think it's a great fight. You just don't get it in our sport too often," Said Ward's promoter Dan Goossen told ESPN.com on Thursday. "Two champions facing one another allows the winner to go out there and continue his climb to superstardom. That's what this fight is about. We need more of this in boxing. In boxing we want the big fights and it's very seldom you can have two world champions willing to face each other in their primes."
"Our intent is to have it for Andre's super middleweight championship," Goossen said. "I still have a few things to close up with (Dawson's Promoter) Gary Shaw. Gary and I have had good conversations and we're moving in the direction to making this fight happen."
"Chad has never ducked anyone and I believe the fight will get made," Shaw told ESPN.com. "It's going to be a great fight, a very interesting matchup between the best American fighters in their divisions. We want it very much as we want to fight the best. Dawson has fought all the top fighters at 175 pounds — Antonio Tarver (twice), Glen Johnson (twice), Bernard Hopkins (twice) and Adrian Diaconu — and we have a score to settle with Jean Pascal." Pascal handed Dawson his lone defeat.
"Atlantic City just had a great turnout for Dawson-(Bernard) Hopkins and I believe we could get 19,000 at Oracle Arena," Goossen said. "So I am partial to Oakland."
"I am ready to fight the best 168- and 175-pounders that are out there," Ward told ESPN.com in a recent interview. "At this point, a big fight at 175 is interesting to me. I don't want to go up just to go up. But for the right fight, for a big fight, I would go up. I'm willing to fight anyone at '68 or '75."
"Ward-Dawson will be on HBO and we're looking forward to it," Goossen said. "It's kind of a homecoming in a lot of ways, including working with Ken (Hershman)."
"Unlike in the tournament, where we had everything lined up for the next challenge, we were looking for something that was big after the tournament," he said. "We were looking at the winner of Hopkins-Dawson. With Chad being the winner, we put our attention there.
"I know some people are surprised we are going for this fight, but in Andre's career we have done things that have surprised people from the beginning. In his 20th fight we put him in the tournament and out of the box he was facing (titleholder Mikkel) Kessler and people said, 'What are you, nuts?' We try to push the envelope and try to do things bigger than people anticipate."