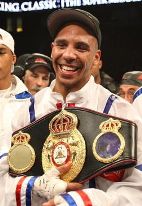 According to Dan Rafael of espn.com, World Super Middleweight champion Andre Ward suffered a shoulder injury that will him force him to postpone his January 26th title defense with Kelly Pavlik.
"He felt a little tweak when he threw a punch and stopped immediately," Ward's promoter, Dan Goossen, told ESPN.com on Thursday. "He didn't really think it was that damaging at first but he certainly felt pain. He went to the doctor and followed up with an MRI (on Friday). It disclosed no tears, no rotator cuff injury, nothing of devastating proportions, but there was a lot of swelling and inflammation, so the key to healing is not using the arm for a few weeks."
"Speaking to Andre about it, he said he has had nagging pain in his shoulder since he was a young kid, but nothing to the extent of what he felt this last time," Goossen said.
"We've seen Andre fight through pain with a broken hand as recently as the Froch fight," Goossen said. "If he says it's painful and the prescription is to rest the arm, that's what he will do."