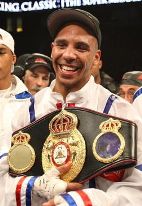 Saturday evening in Oakland, Calif.'s Oracle Arena super middleweight world champion Andre Ward will defend his title against light heavyweight world champion Chad Dawson. I will be there, I'm happy to report, and eager to make the trip. What follows is an opinion-laden exploration of why.
Ward-Dawson will be a match between the world's two very best prizefighters between 161 and 175 pounds. That is enough for the purist in me to make the trip from South Texas. It is a rarity anymore the best fight the best, regardless of popular demand, or its absence, and when that happens, it merits a celebration oblivious of subjective or aesthetic concerns.
Oakland's Andre Ward is a chance to see a better version of a young Bernard Hopkins. Ward does nothing spectacularly but everything quite well. He hasn't chloroform on either fist but keeps stronger men the hell off him. His footwork is steady, not inventive. He is confident more than stylish. He is self-conscious in the best sense of the term; thousands of concentrated hours have taught him how to keep comfortable in a fight, and the man who can discomfit him has yet to be found (a boy in his 12th year, Jesus Gonzales, was the last to do it, in 1996). And Ward likes to smoke where another man lives, as Joe Frazier put it, to fight on an opponent's chest – a singularly endearing quality.
Today's Bernard Hopkins apologists, kids who were usually too young to know or care about Hopkins when he stopped Segundo Mercado 17 years ago and began his middleweight title reign, have little interest in Ward. He is not confrontational enough. He is a careful father rather than a reformed crook. He does not fill a three-minute answer with five minutes of self-aggrandizement. He conforms to the system rigidly, and the system takes care of him. Nothing dangerous there. He is a professional who, by his own estimation, took boxing training too seriously in his youth and now, as he matures, has learned to remand it to a less dominating place – consider for a second how different from the average prizefighter's career trajectory that is. Ward is not particularly charismatic, and there is little to discover about him outside the ring: Loving dad, religious devotee, proud man, disciplined citizen. Yawn.
Connecticut's Chad Dawson is less knowable still. Surely there are a few dangerous corners in New Haven, Conn., and Dawson was right to avoid them as a teenager, but there is an element to the Dawson biography, as told by HBO anyway, that feels effortful. Not Victor-Ortiz effortful, of course, but effortful just the same.
Dawson is not a bad guy. Ward is not a bad guy. Both are excellent fighters, the very best in their divisions, and that is not enough? For me it is. I did not believe Ward was at all special when the Super Six tournament began. I expected Mikkel Kessler to prove how meaningless an Olympic gold medal is these days – meaningless as the advisors of each member of our last two Olympic teams did, and will, tell us. But the very opposite was true, wasn't it? There is a reason Andre Ward is both our country's last gold medalist and very best prizefighter over 154 pounds.
Ward is a winner. He has a sense of exactly where he stands in relation to another man and where their performances stand in relation to one other. The day a man bests him, Ward will know it and likely concede it, publicly. Chad Dawson does not have this sense. Dawson is talented enough to beat anyone put in front of him, and beat him convincingly, but Dawson does not know how good he is. He does not trust himself or the roster of trainers hired over the years, and how could he? They tried to make him what he is not, he laments. It is hard to imagine Andre Ward mouthing those words.
I am going to the Bay Area, in part, for the same reason I went to Michigan 20 months ago for Bradley-Alexander: as a silent challenge to the black community to support its fighters. In conversations with black boxers and trainers, there is a confidence, or conceit, that relies on a belief that, at any time in the last century, one of their own was the best prizefighter in the world, recognized or not. That's a conceit I share. But if black men, as a community, are not supporting boxing's ecosystem, will it always be so? Timothy Bradley does not touch your souls, OK; I do not understand that but accept it. If a community turns away from Bradley, Ward and Dawson to celebrate Floyd Mayweather's comic-book id or Adrien Broner's hairbrush, though, that's another thing entirely, one that raises a question of perspective.
I am also going to the Bay Area because, culturally, it is one of our country's richest places. I spent two years there as a young, overpaid, Silicon Valley software developer during the dot-com boom and haven't been back since 2001. There's a nostalgia for those lovely, hopeful times.
No, this is not a full-throated or objective endorsement of Ward-Dawson, which is why I chose to write it in the first person. I do not expect a great fight. I expect each man to employ his very best technique, and for those techniques to offset each other. I expect Ward to win by using his head – make of that what you will – but think Dawson is uniquely qualified to upset him. Yet I am nearly as excited about seeing Oracle Arena, Saturday, as Thomas & Mack Center seven days after. Call it wanderlust.
Bart Barry can be reached at bart.barrys.email (at) gmail.com