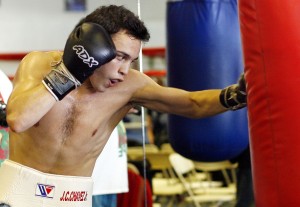 The dog days of August, an unexpected offseason, is full of more idle speculation than medal winners among the American men at the London Olympics. There's little to celebrate and much to anticipate before it starts all over again next month. A busy September includes one night — the 15th — with two good cards: HBO's telecast of Sergio Martinez-Julio Cesar Chavez Jr. at Las Vegas' Thomas & Mack Center and the Showtime telecast of Canelo Alvarez-Josesito Lopez down the street at the MGM Grand. A couple of miles of Vegas neon will separate the two. After a barren August, an embarrassment of riches awaits. Or maybe just embarrassment. Until then, it's just a guessing game.
A few more guesses:
Manny Pacquiao. Further uncertainty is about the only way to interpret his latest decision. Reports about him moving his next bout from Nov. 10 to Dec. 1 seem to say he doesn't really know what he wants. Advisor Michael Koncz says the new date is a political necessity. It eliminates a potential interruption of training by allowing Pacquiao time in October to refile his candidacy for re-election to the Filipino Congress, according to Koncz, who was quoted as saying he has to be in the Philippines to file the documents. But Filipino media reports that he does not have to be there. He can mail in the documentation, according to the reports. The contradictions only muddy uncertain waters. Just who does he plan to fight? Reported options are Juan Manuel Marquez, Miguel Cotto and Timothy Bradley. There would be a lot less uncertainty about Pacquiao if he had announced the opponent along with the new date. As it is, there are questions about whether retirement is another option.
Floyd Mayweather Jr. It's been three weeks since he walked out of a Las Vegas jail after serving about two months for domestic violence. There's still no word on what his plans are. Pacquiao doesn't seem to be among them, at least not during the final months in 2012. Keep an eye on Twitter, Mayweather's favorite way to communicate. Also keep an eye on Canelo-Lopez. It's not the biggest fight on Sept 15. Martinez-Chavez is. But Golden Boy Promotions has dropped hints that Canelo might be Mayweather's next opponent if Lopez doesn't score an encore of his upset of Victor Ortiz.
50 Cent. Keep another eye on the rapper whose birth name, Curtis Jackson, is included on the promotional license that sets him up as a potential rival to Golden Boy and Top Rank. He might have some very different ideas about who Mayweather, his friend and confidante, should fight next.
Juan Manuel Marquez. He plans to write a book. At least three of the chapters figure to be about how he says he got
robbed against Pacquiao, who won two disputed decisions after a draw against the tactically-skilled Mexican. A fourth chapter looks doubtful, if only because the proven risk isn't worth an iffy reward for Pacquiao
Ricky Hatton. Yeah-yeah, we read the rumors about a Hatton comeback, possibly against Paulie Malignaggi. Can another Oscar De La Hoya rumor be far behind?
Andre Ward and Chad Dawson. It looks like the best of September. Martinez-Chavez Jr. is getting most of the attention, which also means all of the expectations. Those might be very hard to fulfill. Ward-Dawson on Sept. 8 in Oakland, Calif., isn't surrounded by all of the hype, in part because neither fighter engages in much braggadocio. But the fight, an All-American bout, might introduce a new argument to a pound-for-pound debate grown stale by the unresolved blather about when or whether Pacquiao and Mayweather will fight. Ward-Dawson "sells itself," Ward told the media Thursday in hometown Oakland. It does.
Gennady Golovkin. Never heard of him? That's a question Golovkin, an unbeaten middleweight and Olympic silver medalist from Kazakhstan, hopes to quit hearing in the U.S. sometime after he fights for the first time in America on Sept. 1 when he kicks off next month's schedule on HBO After Dark against Grsegorz Proksa at Turning Stone Resort in Verona, N.Y. "We've made it clear we'll fight anybody in the middleweight division," Tom Loeffler of K2-Promotions said of Golovkin. In a month that includes middleweight Chavez Jr. and Martinez, Golovkin needs to make his American debut a memorable one.
Devon Alexander and Randall Bailey. Showtime and HBO will stage a preliminary Sept. 8 to their Sept. 15th duel for viewers. That's when Showtime will televise the Bailey-Alexander welterweight at Las Vegas' Hard Rock Hotel and Casino on the same night as HBO's telecast of Ward-Dawson. Alexander-Bailey has the makings of a classic boxer-puncher confrontation. Bailey already is making it fun. Bailey, who says his one-punch KO power makes him the last of a kind, has little patience for Alexander's speed and boxing skill. "Everybody gets hit with that right hand," Bailey said during a conference call. "Question is, when you get hit with that right, what are you gonna do?"
In September, at least, we'll get the chance to find out.