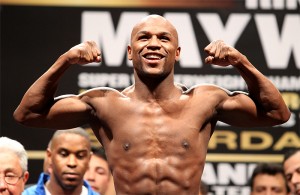 LAS VEGAS — There were a lot of surprise, but only one upset.
Floyd Mayweather Jr. did the expected Saturday night at the MGM Grand and beat Miguel Cotto with a decision that was as bruising as it was unanimous. Then, there was the upset.
Mayweather did an interview with HBO's Larry Merchant after saying he wouldn't after the two engaged in a war of words following his controversial stoppage in a September stoppage of Victor Ortiz. Merchant said Mayweather apologized Friday for the rhetorical brawl.
The bet was that an apology from Mayweather would happen before immortality and an end to taxes. The way things are changing, anything looks possible, maybe even a Mayweather-Manny Pacquiao fight. More on that later.
Nevertheless, there have been hints for at a least week that Mayweather is a changed man even before he has to report on June 1 for an 87-day jail sentence for domestic abuse. At news conferences and other public appearances, he had begun to behave more like a diplomat and less like an ill-mannered rapper.
In Cotto, he said, he expected a tough fight.
"He came to fight,'' said Mayweather (43-0, 26 KOs), who collected a minimum of $32 million, a record guarantee. "He didn't come for survival.''
No, he didn't. Cotto came for a significant upset. He didn't get it. On the scorecards, his loss was one-sided. Judges Patricia Morse Jarman and Dave Moretti scored 117-111 each for Mayweather. The third judge, Robert Hoyle, had it 118-110. Cotto (37-3, 30 KOs) left the ring without speaking to the media, which might be a sign of his frustration at the scoring.
But there are no points for determination and the guts to sustain an attack throughout 12 rounds. A key element to Cotto's tactical plan took shape early. Mayweather often uses distance like a puppeteer uses strings. From about the length of a jab, he pushes, pulls, leads, twists and, in the end, turns ordinary opposition inside-out. But Cotto refused to let him maintain the distance so fundamental to his reign.
In the second, it was evident Cotto would not follow Mayweather's calculated lead. Cotto shoved him up and against the ropes as if to say that Mayweather should have picked a different dance partner. Cotto returned to the blueprint again and again throughout the next 10 rounds, driving Mayweather into the ropes with a bruising jab and a physical attack that bloodied Mayweather's nose.
The blood was a surprise. If anybody was going to bleed, the guess was that it would be Cotto, whose eyes are surrounded by scar tissue from old wounds. This time, however, the unmarked Mayweather was the only one to bleed and sight of that blood elicited cheers from that part of the crowd that lusts for him to lose.
He didn't, because in the ring, at least, he never changes. He is never without resources or an infinite ability to adjust. He scored by getting Cotto out in the center of the ring and landing shots, some unlikely. In the fourth, he rocked Cotto with a right that circled around his upraised hands. The punch found its mark, almost like a curve ball. Even when pushed up against the ropes, he rolled his shoulder and managed to deflect many of Cotto's blows.
What's next? For now, there's only June 1 and time in Nevada's Clark County Jail.
"That comes with the territory,'' Mayweather said. "Things of life. You are faced with certain obstacles. You take the good with the good and the bad with the bad. …When June 1 comes, I'm going to accept it, like a true man would do.''
And after his release?
"I don't know,'' said Mayweather, who went on to rip Pacquaio's promoter, Bob Arum. "I was looking to fight Manny Pacquiao. I didn't think that fight would happen because of Bob Arum. Bob Arum stopped the Manny Pacquiao fight. Let's give the fans what they want to see. Let's get that fight together.''
Otherwise, Mayweather might have to apologize again. Once is enough.
It was the end of a beginning for a 21-year-old Mexican who might finally begin to be known for something more than his red hair.
"This is the beginning of my career,'' Saul "Canelo" Alvarez said. "Thank you, Shane Mosley, for giving me this experience.''
Alvarez (40-0-1, 29 KOs) might also have said thanks to Mosley (46-8-1, 39 KOs) for letting him add a legendary name to his unbeaten resume. He could also have said good-bye and good-luck to Mosley.
Mosley never had a chance. He was pounded to the body, pounded to the head, pounded from pillar-to-post in losing a unanimous decision to Alvarez, still the World Boxing Council's junior-middleweight champion and more ambitious than ever to fight Floyd Mayweather Jr. or Miguel Cotto or Manny Pacquiao.
A sign, perhaps, that Canelo is growing up and beyond his Howdy Doody days happened at the moment when he encountered the only potential adversity in an otherwise one-sided fight.
Blood, Canelo red, poured from a cut above Alvarez left eye after a head butt in the second. But it didn't seem to bother Alvarez, who is said to have never suffered a cut before the inadvertent collision with Mosley.
If it really was Alvarez' first wound, the 21-year-old Mexican responded as if he had always known how it would feel. How it would color his vision. How it would taste. It was a moment when he looked as if he had been born for the blood sport.
"He can go a long ways,'' said Mosley, who collected $650,000 on a night when Alvarez earned $2 million.
The totality of Alvarez' victory, however, might be hard to judge in terms of how he will do against younger, more dangerous opponents. The 40-year-old Mosley did nothing to dispel mounting evidence that he's more shot than Sugar. He endured 12 rounds. He would not quit Saturday night. After sustained punishment that has left his face puffy and some say his speech slurred, however, it looks as it is time to quit the long, legendary career that will one day land him in the Hall of Fame.
"It can look that way,'' said Mosley, who in the immediate aftermath of the loss didn't say he would retire.
Mosley had no defense for the heavy hands that ricocheted off his midsection, rocked his head and echoed with an almost sickening thud throughout the MGM Grand Garden Arena.
"Maybe, he'll be one of the next kings of the ring,'' Mosley said.
Maybe.
Las Vegas welterweight Jessie Vargas (19-0, 9 KOs, a Floyd Mayweather Jr.-promoted fighter, is still unbeaten, but there wasn't anything unanimous about his performance after a unanimous decision over shop-worn Steve Forbes (35-11, 11 KOs), also of Las Vegas.
There were scattered boos from a crowd gathering for the Mayweather Jr.-Miguel Cotto fight for the dull 10 rounder. Vargas won at least eight of the rounds, but wasn't dominant in any of them over Forbes, who has lost six of his last eight fights.
With Miguel Cotto watching from a ringside seat, super-welterweight Carlos Quintana (29-3, 23 KOs) scored a sixth-round knockout of DeAndre Lattimore (23-4, 17 KOs) of Las Vegas in the first bout on the pay-per-view part of the card.
Cotto must have liked what he saw from Quintana, a fellow Puerto Rican, in a victory that might have been a good sign for his chances at an upset of Floyd Mayweather in the main event. Quintana swarmed Lattimore with a barrage of punches — head to body, body to head.
Midway through the sixth, Quintana stunned Lattimore in a neutral corner. A dazed Lattimore slid along the ropes. Quintana pursued, hitting Lattimore with a succession of left hands that finally dropped him near his own corner at 2:19 of the round.
"A great day for Puerto Rico,'' Quintana said of a night that he hoped would end in a Cotto encore.
Puerto Rican featherweight Braulio Santos (6-0, 5 KO) employed explosive quickness for a unanimous decision over Juan Sandoval (5-9-1, 3 KOs) of San Bernardino, CA, in the last fight before the pay-per-view telecast.
Santos' array of punches came at a blinding rate, especially in the fourth when Sandoval was knocked into the ropes by combo capped by a stinging left.
Lightweight Omar Figueroa (16-0-1, 13 KOS) of Weslaco, TX, could have been swinging a bat at a ball poised on a tee with a wide left hook that lifted Robbie Cannon (12-7-2, 6 KOs) of Pevely, MO, up and almost out of the ring.
Somehow, Cannon got up, but only to see that referee Vic Drakulich had ended it, declaring Figueroa a TKO winner at 2:08 of the second round.
Welterweight Keith Thurman (17-0, 16 KOs) of Clearwater, FL, turned the card's second fight into a display of the reasons why Golden Boy Promotions signed him.
Thurman's foot speed, power and quick jab overwhelmed Brandon Koskins (16-1-1, 8 KOs) of Hannibal, MO. Referee Russell Mora stopped it at 25 seconds of the third with a defenseless Koskins hanging on the ropes after a head-rocking right hand from Thurman.
Antonio Orozco and Dillet Frederick fought in front of referee Kenny Bayless, three judges, cornermen, a few ushers and nobody else in the first fight on a card Saturday that would end hours later with Floyd Mayweather Jr. and Miguel Cotto in the main event at the MGM Grand Garden Arena.
The arena was filled only with echoes, mostly from body punches landed by Orozco (14-0, 10 KOs), a San Diego welterweight who won a third-round TKO over Frederick (8-6-3, 5 KOs) of Fort Myers, Fla.