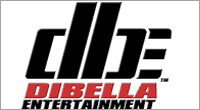 NEW YORK–Lou Diebella's Dibella Entertainment put together another massive Broadway Boxing card at the Roseland Ballroom in the Theater District of New York City. The headline featured New York's own Will "Power" Rosinsky (16-2, 9 KO's, 174lbs) in a light heavyweight showdown against Otis "Triple OG" Griffin (24-10-2, 10 KO's, 174lbs) for the New York State Light Heavyweight title.
Rosinsky, a volume puncher, started off by ripping hard shots to Griffin's body. Griffin allowed Rosinsky to get on the inside, hoping to get in some shots around Rosinsky's arms and point of view. At the end of the first, Rosinsky was showing a cut on the side of his left eye. By the second, Rosinsky seemed a bit more comfortable and was shooting his straight right from a distance. While in the corner, Griffin was able to turn and counter one of Roskinsky's punches with a hook. The blow staggered Rosinsky, forcing him to steady himself by holding onto the ropes. After that exchange, swelling started to form around Rosinsky's left eye.
As the bout progressed into the middle rounds, Rosinsky maintained his offensive output, while Griffin still did some good work countering while against the ropes. This quickly became one of those fights where one wouldn't want to be a judge. By the sixth, it was Rosinsky who was moving around more, hoping to goad Griffin into initiating the action and opening himself up for a counter punch. Both fighters were extremely savvy and did not often fall into eacho others traps.
Griffin came out of his corner for the eighth round like a bull, rushing Rosinsky into the ropes and landing hard punches in the process. The swelling over Rosinsky's left eye grew worse, and now there was blood coming out of his mouth. Rosinsky managed to weather the storm and looked good when he brought the fight back into the middle of the ring.
The final round of the fight saw Griffin work Rosinsky into the ropes. With a flurry of his own, Rosinsky came back to take over the second half of the round.
The final bell rang, and the judges scored it 97-93, 96-94, and 96-94 all in favor of Will Rosinsky for the unanimous decision victory and the New York state Light Heavyweight title.
Gabriel Bracero (20-1, 3 KO's, 141lbs) continued his comebacking ways against Johnnie Edwards (15-5-1, 8 KO's, 142lbs). Despite not possessing hard one punch power, Bracero is a bit of a brawler and opened up the fight taking it right to Edwards. After some hard in-fighting, Edwards fell on a slip, but got up on shaky legs. Bracero pounced and immediately scored a left hook that sent Edwards crashing into the ropes and onto the canvas. Edwards beat the count and was saved by the bell, but the next three rounds saw Bracero beat Edwards from pillar to post. In the fourth round, Bracero continued the beat-down. After a combination that backed Edwards into the ropes, Edwards took a knee and complained of an eye injury. The referee counted and then took a closer look to observe the injury and then was forced to call the bout over. Bracero won by technical knockout at the 2:48 point in the fourth round.
The up and coming sensation, Ivan Redkach (12-0, 11 KO's, 134lbs) faced Edward Valdez (11-8-2, 8 KO's, 134lbs). Redkach is known for his sensational knockouts, and he started the fight by taking it right to Valdez, landing two hard right hands. Valdez, to his credit was able to land long looping right hands over the top of Redkach's straight left hands. This continued throughout the fight. Redkasch stalking Valdez with the left hand, landing it often, with Valdez countering with his right hand and landing every so often.
Valdez'counters definitely earned Redkach's respect. Redkach wasn't nearly as aggressive as he usually is. Redkasch landed more consistent blows, but Valdez' shots wowed his hometown crowd. Entering the seventh round, Redkach seemed intent to put Valdez away, landing dozens and dozens of hard blows with Valdez in the corner. Finally, a little over halfway through the round, Valdez landed a hook that stopped Redkach in his tracks. Redkasch didn't seem too phased, but it did stop him from continuing his high work rate from earlier in the round. The final round saw both fighters exhausted, but still throw punches until the final bell rang. The final scorecards were announced as 79-73, 78-74, and 78-74 for Redkach and a unanimous decision.
In an eight round feature, Ionut Ion Dan (29-3, 16 KO's, 150lbs) squared off against Franklin Gonzalez (15-11, 11 KO's, 150lbs). Ion Dan began the fight working behind his jab and keeping his southpaw left cocked for a counter. He was much taller than Gonzalez, so he maintained a safe distance to throw from, never allowing Gonzalez to be in his optimal range. That caused for Gonzalez (also a southpaw) to reach fairly often with his left hand. By the fourth round, it was all Ion Dan, still applying all the pressure and throwing all the meaningful punches. He worked Gonzalez into the ropes and unleashed multiple blows that had Gonzalez reeling, only to be saved by the bell. As the fifth round went underway, Ion Dan feinted a shot upstairs and landed a hard left hook to the body, dropping Gonzalez. The referee immediately waved the fight off after seeing Gonzalez writhe in pain. Ion Dan was credited with a technical knockout victory at the :11 point in the fifth round.
Travis Peterkin (5-0, 3 KO's 175lbs) looked huge compared to his opponent, Edward Tigs (1-4-2, 0 KO, 169lbs). The entire bout from start to finish saw Peterkin utilize his size and strength to overwhelm Tigs. It was as one-sides as you can get. Tigs was not particularly bad; he used the ring well and was able to counter somewhat well. Peterkin simply out-matched him. In the third round, a right hand stunned Tigs, and Tigs wisely took a knee to prevent any more damage. The rest of that round and the fourth saw Peterkin continue his onslaught. The final scorecards read 40-35, 40-35, and 40-35, a unanimous decision for Peterkin.
Mikkel LesPierre (1-0, 1 KO, 143lbs) came out to a roaring ovation when he took on Cornelius Whitlock (Debut) in a bout scheduled for four rounds. Both fighters looked talented from the outset; utilizing skilled defense and ring usage. LesPierre was much more calm, fighting behind the shoulder roll in a southpaw stance. Whitlock fought off his back foot for those first two rounds, using every square inch of the canvas. In the second, LesPierre was able to walk Whitlock into the ropes and land multiple blows that had Whitlock reeling.
By the third, LesPierre smelled blood and went in for the kill. That proved to be a mistake as he walked right into a big right From Whitlock hand that buckled his knees and had him reach down to the canvas to stay on his feet. The referee called it a knockdown and when both fighters were allowed to continue, Whitlock was now on the hunt. He landed two more big right hands and then backed towards the corner. LesPierre walked right into another huge right hand bomb and was on his back. He beat the count, and Whitlock tried getting him out of there, but LesPierre survived the round. By most unofficial scorecards, Whitlock still needed the fourth and final round to win the fight. Instead of keeping his hands moving, Whitlock went back to the same backing away style that lost him the first two rounds. The bout ended and the final scorecards read 37-37, 37-37, and 37-37 scoring the fight a draw. Promoter Lou Dibella reached an agreement with both fighters that they would fight in a rematch at the next Broadway Boxing event.
The women took to the ring in a bout scheduled for four rounds. Akima Stocks (4-0, 3 KO's, 154lbs) took on Marva Dash (0-1, 156lbs). Stocks started the bout very aggressive from her southpaw stance. The bout remained that way, with Stocks consistently working Dash into the ropes. The bout was a little sloppy because of the fact that both combatants were left-handed, but Stocks maintained her composure and alway skept her hands moving. In the fourth and final round, Dash finally began to throw her jab, and it was landing. Soon afterwards, she appeared to score a knockdown, but the referee ruled it off as a slip. The final bell rang, and all three judges saw it the same way, scoring it 40-36 on their cards, giving Stocks a unanimous decision victory.
Jarrell Miller scored a second round stoppage over Tyrone Gibson in a four round Heavyweight bout.
Miller rocked Gibson in round one from a right hand. Later in the round Miller opened up with a four punch combination on the ropes. Miller rocked Gibson with a huge right hand that he followed up with a barrage and the fight was stopped at 1:25 of round two.
Miller, 278 lbs of Brooklyn, NY is now 4-0 with four knockouts. Gibbing, 230 lbs of Hibbing, MN is now 1-4.
Allan Benitez (7-1, 1 KO, 136lbs) and Daniel Calzada (4-6-2, 1 KO, 135lbs) fought in a back and forth bout. Both fighters threw aggressive punches, but it was Calzada who kept the pressure throughout the first half of the fight. He was basic in that he stuck to the jab followed by a straight right, but he threw constantly and landed regularly Benitez resorted to counter hooks, which landed at a good rate, but they seemed to come few and far between.
By the second half of the fight, Calzada seemed to tire just a bit, and Benitez took advantage by upping his work rate. He seemed to try making up for the fact that he might have given up early rounds. The final round saw both fighters give it their all, exchanging huge hooks for the entire three minutes. At the end, the close scorecards of 60-54, 59-55, and 59-55 in favor of Daniel Calzada, giving him the upset victory.
The opening bout of the evening saw Maurice Hooker (6-0-1, 5 KO's, 141lbs) square off against Cameron Kreale (2-3-2, 0 KO's, 139lbs) in a bout scheduled for four rounds. Kreale was no pushover, showcasing an aggressive stance, but he was no match for Hooker, who was simply more talented. A right hook dropped Kreale in the opening stanza, and Hooker continued to apply the pressure throughout the fight. A second knockdown came in the second with another right hook. From then on, Hooker coasted to a UD victory, counting on his superior talent and resilience. The final scorecards read 40-34, 40-34, and 39-35 in favor of Hooker.