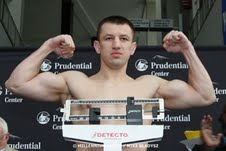 NEWARK– The Polish faithful were on hand at the Prudential Center in Newark, NJ to see their hero, Tomasz Adamek (46-2, 28 KOs, 222.5lbs), take on Travis Walker (39-7-1, 31 KOs, 235lbs). The show was put together by Main Events and aired on WealthTV.
The bout started as expected, with both fighters aggressively moving towards each other looking to find an opening. The second round is where things got interesting. A straight right hand from Walker landed flush on Adamek's chin, sending him down. Everyone at ringside was in disbelief. Adamek beat the count, but did not look 100%. Walker came on, landing more right hooks that had Adamek reeling all over the ring. After about a minute of this, Adamek tried fighting back, and began regaining the strength in his legs. Then both fighters threw right hands at the same time. Adamek's landed first, and now it was Walkers turn to be on the canvas. When Walker got to his feet, Adamek pounced. The bell for the end of the round rang, but referee Eddie Cotton could not hear it and allowed the assault to continue for about fifteen seconds after the round was supposed to end.
Adamek controlled the next two rounds with his straight right hand, repeatedly stopping Walker in his tracks. It was in the fifth when Adamek opened up again. Another right hand badly stunned Walker. Adamek followed that up with over twenty unanswered flush punches onto a badly damaged Walker. Eddie Cotton was forced to call a halt to the fight at the 1:08 point of the fifth round, giving Adamek a TKO victory.
Steve Cunningham (24-4, 12 KO's, 207lbs) took his first plunge into the heavyweight division when he took on Jason Gavern (21-10-4, 10KO's, 239lbs) in a bout scheduled for ten rounds. Many in attendance were interested in seeing how Cunningham would fare against a much heavier opponent. Things were difficult for Cunningham when seconds into the bout, an accidental clash of heads cut Cunningham just over his left eye.
That didn't seem to phase Cunningham much, as he completely outclassed Gavern over the course of the fight. Any time Gavern tried to mount any momentum, he was thwarted by Cunningham's movement and volume punching. To make matters worse, in the middle rounds, Gavern managed to land a shot on the top of Cunningham's head which broke his hand.
Cunningham continued his assault on Gavern for the rest of the fight, occasionally stunning him. The final scorecards read 99-91, 100-90, and 100-90 giving Cunningham a unanimous decision victory and his first win as a heavyweight.
Rising heavyweight sensation, Bryant Jennings (14-0, 6 KO's, 230lbs) wowed the crowd when he took on Chris Koval (25-9, 18 KO's, 226lbs). One of the first punches thrown was a left-right combination from Jennings, and it crushed Koval, sending him down hard. Koval somehow managed to beat the count, but was on very unsteady legs. Another righ-left combination sent him down again, and the referee waved the fight off before Koval even hit the canvas. Jennings won with a first round TKO at the :35 second mark. Jennings continues to impress.
The opening bout of the WealthTV broadcast featured an exciting matchup between Jerry Belmontes (16-0, 5 KO's, 129lbs) and Joselito Collado (13-1, 3 KO's, 129lbs). Neither fighter is known for their punching prowess, but they came out swinging early. Collado was the aggressor, pressuring his opponent with looping left hooks. That backfired when both fighters clashed heads, opening up a cut high on Collado's forehead. Throughout the eight round bout, neither fighter let up. Collado continued to make use of his left hook, while Belmontes consistently took advantage of the opening by landing flush straight right hands. The early rounds were very back and forth, but by the sixth, Belmontes was the fresher fighter. It was a testament to his highly regarded attention to training.
At the end of the fight, the judges scored it 78-74, 78-74, and 77-75 in favor of Belmontes, giving him a unanimous decision victory.
The opening bout of the evening featured an interesting matchup between Karl Dargan (10-0, 5 KO's, 136lbs) and Jesse Carradine (8-1-1, 4 KO's, 130lbs). Despite the difference in weight, Dargan looked to be the faster fighter. In a weird moment towards the end of the fight, an exchange tripped up Carradine, forcing him to hold himself up with his gloves. The referee ruled it a knockdown, but went over and started counting at Dargan. Spectators at ringside shouted to him that he was giving an eight count to the wrong fighter, and he turned around and counted the correct fighter. Only in boxing.
The next two rounds were competitive between both fighters, but Dargan was in control with with his superior all around talents. As the third round opened up, Dargan began opening up with power punches and landing very effectively. It was all to set up one huge straight right hand that buckled Carradine and sent him crashing onto the canvas. He managed to beat the count, but was on very rubbery legs. Dargan went in for the kill, but Carradine held on and didn't let go. The referee had to pry Carradine off of Dargan. This happened two more times, and the referee finally had enough of Carradine's antics and waved the fight off. Due to his unwillingness to fight, Dargan was credited with a TKO victory at 1:04 of the fourth round.
Jose Peralta (9-1, 5 KO's, 141lbs) took to the ring against Christian Steele (3-4, 1 KO, 140lbs) in a bout scheduled for six rounds. Peralta started early with a viscious body attack that had Steele on the defensive. Steele, to his credit, is better than his record shows and was able to land some short counter hooks to slow down Peralta's onslaught. Peralta didn't waver and continued to work into his opponent. In the second round, while Steele was trying to side step his way out of danger, Peralta landed a picturesque left hook that sent Steele down. Steele beat the count and seemed steady on his feet, but it was evident that he was concerned with Peralta's power and he went into survival mode. In the third round, a right hand landed on Steele's temple and sent him down again. Steele beat the count again, but the referee saw that he was out of it and waved the fight off. Peralta scored an impressive TKO victory at :40 of the third round.