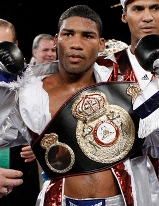 Yuriorkis Gamboa looks like a pawn in a standoff perilous to his own future and bad for a divisive business populated by more lawyers and fewer potential stars.
Start with Gamboa, if you can find him. The Cuban has displayed potential enough to become part of a generation that will succeed Manny Pacquiao, Floyd Mayweather Jr, Miguel Cotto and Juan Manuel Marquez.
But at 30, Gamboa is not exactly a prospect. He has no time to waste. But waste is what he'll do if a Top Rank lawsuit against him gets buried in the legal swamp. Throw in an injunction into a lot of legalese, and suddenly Gamboa is 32, mostly forgotten and remembered only as an obscure answer to a trivia question: Hey, whatever happened to that promising lightweight who was supposed to fight Brandon Rios?
The answer to that one apparently was not anywhere on the agenda held by whoever advised Gamboa to be MIA for news conferences in Miami and then Los Angeles. The story is that Gamboa is unhappy with his Top Rank contract. OK, but shouldn't he have expressed that dissatisfaction in the public arena, like say at a news conference?
Instead, he acts like a kid cutting class. That doesn't say much for his maturity, his reliability and, above all, his independence. If he can think and speak for himself, where is he? Despite his evident skill, Gamboa has yet to prove he can draw a crowd. Now, I'm not sure he'll get that chance.
Top Rank's lawsuit alleges that an unidentified crowd, "John Does 1 through 10," have been orchestrating Gamboa's every move. It doesn't take much imagination to guess who Top Rank's Bob Arum thinks that John Doe family happens to be. There's been plenty of speculation that Floyd Mayweather Jr.'s promotional company has been telling Gamboa what to do and where not to appear.
Mayweather's name is never mentioned. But the lawsuit's language, already reported, looks like a warning intended for Mayweather. If he is in fact involved with Gamboa, I'm betting he won't back down. Neither will Arum. Instead, there will be just an escalation of a feud that means the biggest fights will only involve more lawyers.
AZ NOTES
I got a call from Michael Carbajal last Tuesday. The Hall of Fame junior-flyweight asked me if I knew what that day meant to him. Not sure, I said.
"It's a 19-year anniversary,'' he said.
So it was.
On March 13, 1993, Carbajal and Humberto "Chiquita" Gonzalez made some history with an epic fight that saw Carbajal get up twice and win by a seventh-round KO.
Carbajal is now 45. Gonzalez will be 46 on March 25. Some of us who were at ringside are just getting old.