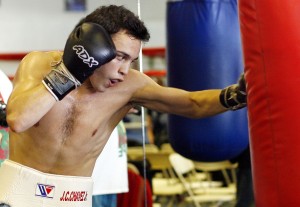 Julio Cesar Chavez, Jr., says he wants to create his own history, which means he will try to re-write a chapter as old as any in the family business.
Fathers fight so their sons don't have to. Name the profession and you'll probably find some version of that collective wisdom, passed down from one scarred generation to the next. My dad was a career soldier, a veteran of combat in World War II, Vietnam and conflicts in between.
He fought, survived and left me with a comfortable life. Yet, there was always this tug, the wonder at what the old man had done and endured. Should I have followed him into harm's way? For me, it's a question without an answer. I can only say thanks, dad.
For Chavez (42-0-1, 30 KOs), however, there is the determined pursuit of more than just mere speculation. The answer remains unpredictable. The only sure answer is danger, although maybe not against light-hitting German Sebastian Zbik (30-0, 10 KOs) Saturday night at Los Angeles' Staples Center in an HBO-televised bout for the World Boxing Council's version of the middleweight title.
But it will surely be there if Sergio Martinez or Miguel Cotto is next for Junior. I admire him for the attempt, especially under the crushing inheritance of a name that is royalty in Mexico. His dad, J.C. Superstar, was – still is — the battered face of an often angry fighter who was easy to like only in the ring.
The dad's unblinking eyes, dark as flint, provide a glimpse at a heart of larceny. Translation: Julio Cesar Chavez, Sr., would steal the other guy's heart and often did. Junior didn't inherit that look, which is one part generous and another part world-weary, unlike his dad's mix of contempt and single-minded purpose.
Junior's father grew up seeing only an incoming punch. Thanks to how his dad countered, Junior saw wealth, comfort and – above all – options. Yet, he chose the difficult, perhaps impossible, path.
"To me, it is something that I love to do,'' said Chavez, who hopes to become Mexico's first middleweight with a major title. "I grew up in boxing. All my life, I saw how good boxing was to my father and I always wanted to be part of it, somehow, some way.
"I want to make a name for myself. I am very hungry to do something in this world, to be someone in this world and I think boxing has given me the opportunity to do so. I am just as hungry as any other guy and I want to win a world title just like any other boxer.''
Junior's relationship with his legendary dad has been complicated. In addition to impossible yet inescapable expectations that come with the name, there have been his father's substance-abuse problems.
It's no secret that the senior Julio has been in-and-out of rehab in Guadalajara. A couple of years ago, Top Rank promoter Bob Arum didn't even mention the dad when introducing Junior at an undercard news conference for a Las Vegas card featuring Manny Pacquiao.
The omission wasn't a mistake. It was intended, Arum said then. The son, apparently exasperated that his dad had fallen off the wagon, didn't want to talk about him a couple of days before a fight. It looks as if father and son have moved on since then and found new ground on which to rebuild a fractured relationship.
"People are human and everything happens for a reason,'' Junior said in a conference call. "I saw a lot of things with my father in my lifetime and obviously I think I am prepared to handle anything that comes my way. I am also human and you never know what is going to happen. You just try to do the best you can, not only in the ring but in your life.''
Above all, repaired relationship is a chance to move beyond history and toward a story that the son hopes is his. It's a sign that Junior is step closer to maturity. There's also trainer Freddie Roach, a teacher who is turning into a father-like figure himself. Junior enters the ring with Roach in his corner for the third time. Initial results were promising with a victory over John Duddy last June. They were less so with a ho-hum performance in a decision over Billy Lyell in January.
"I actually expect a much better performance,'' Roach said when asked about the victory over Duddy. "We had a much better training camp for this fight. We had great sparring.''
In Junior, Roach says he sees an attentive student who knows the ring as if he had grown up in it. Delete the if. Junior did grow up in it. Growing up in it, however, is different than conquering it.
Despite the three ropes, four corners, two stools and canvas, he grew up in a place dictated by his dad's defiant toughness. He can make it his, but only with his style and personality, both of which are a fight with Martinez or Cotto from maturing into an identity that makes him his own man.
Only then can we quit calling him Junior.
LATE LOOK AT THE TAPE
Showtime sent a preview to the media of a moment before the 10th-round of Shane Mosley's loss to Pacquiao. The network plans to show it Saturday before the Super Six tournament semi-final between Carl Froch and Glen Johnson in Atlantic City.
In it, Mosley wants to quit, which is what he essentially did anyway after he was knocked down in the third. He pleads with trainer Naazim Richardson to throw in the towel, saying he can't move. Richardson won't let him. Richardson urges him on.
There are questions about whether Richardson or the Nevada State Athletic Commission should have stopped it at that point. A stoppage would have done the fans a favor. In the end, however, Richardson did Mosley a favor. At least, Mosley can point to his record and say that he didn't quit on the stool.
NOTES, QUOTES
· Golden Boy's apology to Pacquiao for allegedly linking him to performance-enhancing drugs marks an end to the defamation suit that was at the root of the rancorous split with Top Rank. It's a relief, but not much of a surprise. Top Rank and Golden Boy were leaving too much money on the table with fights left undone by the feud. That said, the truce is also a message to Floyd Mayweather, Jr., who along with his uncle and dad are still being sued. The promoters are moving forward and perhaps beyond the Mayweather-Pacquiao possibility, which has held the business hostage.
· There's a buzz building in Phoenix about 19-year-old junior-middleweight Juanito Gonzalez, who turned his pro debut on May 28 in Parker, Ariz., into some quick work with a first-round TKO of Anthony Garcia (0-1), also of Phoenix. Garcia is scheduled to fight on a June 11 card featuring junior-welterweight prospect Jose Benavidez (11-0, 10 KOs) in his home-state debut as a pro at Wild Horse Pass Hotel & Casino in suburban Chandler.
Photo by Chris Farina / Top Rank