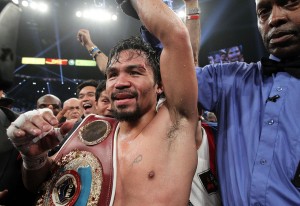 LAS VEGAS – It wasn't everything Manny Pacquiao promised. But it was enough, more than enough to put his Filipino presidential ambitions on hold.
Pacquiao's boxing career and his place in the pound-for-pound debate stayed very much alive with a unanimous decision Saturday night over Timothy Bradley at the MGM Grand.
A piece of the welterweight title lost in a controversial split decision in 2012 is back in Pacquiao's possession with the victory over Bradley.
This time, there was no argument. The judges were unanimous. Glenn Trowbridge scored it, 118-110. Michael Pernick and Craig Metcalf had it 116-112 each, all for Pacquiao. There was unanimity on both sides of the ropes.
There was no argument from Bradley, who congratulated Pacquiao in the center of the ring after the scores were announced.
"No excuses, no excuse at all,'' Bradley said at the post-fight news conference while reporters waited for Pacquiao to appear after getting stitched up for a cut above an eye.
Pacquiao had promised, or perhaps expected, to win by knockout. His trainer, Freddie Roach, predicted one. The compassionate Pacquaio would not answer the opening bell, Roach said. But the KO prophesy was never fulfilled.
"I tried,'' Pacquiao (56-6-2, 38 KOs) said in the middle of the ring. "I really wanted that knockout.''
Against the tough Bradley, a knockout was too much to expect. Bradley (31-1, 12 KOs) lost for the first time. Yet, he still has never been stopped.
For Pacquiao, the victory was a step in growing older. Some of his quickness has vanished like grains of sand in an hourglass. But time has turned him into more of a thinking fighter.
"His punches were harder in the first fight than they were this time,'' Bradley said. "The difference this time was his experience.''
Pacquiao adjusted in the face of wild, awkward shots from Bradley
"That's when I knew I had to go down the middle,'' said Pacquiao, who will collect a $20-million guarantee for his 12 rounds of work in regaining the World Boxing Organization's title.
After opening the fight with a lot of side-to-side movement, he walked into a head-rocking punch from Bradley in the fourth. It was a sure sign that it was time for an adjustment.
Even without the key adjustment, Bradley's chances at a victory that would have validated his split decision nearly two years ago might have been eliminated in the first round. After the first three minutes, Bradley told trainer Joel Diaz that he thought he sustained an injury to his right hamstring. For Bradley, it must have felt like déjà vu all over again. On his June 9, 2012 decision over Pacquiao he suffered injuries to both feet. There was no update about the severity of the injury during the post-fight news conference. Bradley didn't want to talk about it.
"This sort of thing happens in big fights,'' Diaz said. "But our plan was to dominate Manny. With something like that happening so early in the fight, we just couldn't do that.''
No argument about that either.