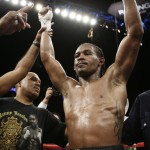 LAS VEGAS – Long before management and marketing promoted him as The Golden Child, his grandmother called him Baby Maniac.
Cordelia Jacobs knew her grandchild better than anybody. She saw the fight in Danny Jacobs before it matured and began to look as if it had value.
"I was probably the worst baby you could possibly have,'' said Danny, who at 23 isn't a child anymore, yet retains potential that is as golden as ever. "I was doing everything. Running into walls, knocking everything down.''
Grandma Jacobs is gone. She died Sunday, within a week of her grandson's first shot at a major title, the World Boxing Organization's middleweight championship, this Saturday night against Dmitry Pirog at Mandalay Bay. Danny was there, at her bedside in New York before leaving for Vegas.
"There are people in life you can't live without,'' said Jacobs, who will fight for the vacant WBO title in a HBO pay-per-view bout on the undercard of the Juan Diaz-Juan Manuel Marquez rematch. "She was that person to me.
"I took it hard. I sat there and watched her pass. I was in the hospital and witnessed everything. I get emotional just talking about it. But I know I have to be strong at the same time.''
Strong is what his grandmother would expect. He and his mom, Cordelius, raised him in Brooklyn after his parents separated when he was a toddler. Grandma Jacobs was not a boxing fan. She couldn't be, Danny said, because of her faith. She was a Jehovah's Witness.
"She couldn't support boxing, but she supported me,'' Jacobs said of a grandma who taught him to believe in the person more than the profession.
The unbeaten Jacobs (20-0, 17 KOs) said his grandmother did not attend his fights.
"To actually go there is something she just couldn't do,'' he said. "She'd see me fight on TV, but never in person. Then, she'd only watch the fight after it's done. So, she already knew that I'd won. Then, she would only watch the first round, probably because that might have been when I was at my best.''
But, Jacobs said, she always would tell him not to skip any part of his daily workout. Call her Grandma Trainer.
"Her advice to me was always: 'Make sure you do your sit-ups, so when they hit you in the stomach you won't cry,' '' he said.
Jacobs joked that he has been working harder than ever to strengthen his abdominals for his first scheduled 12-rounder against Pirog, an unknown Russian and also unbeaten (16-0, 13 KOs).
In remembering his beloved grandmother, her lessons will always be with him. He has dedicated Saturday's fight to her. Her nickname, Lady Bird, will be stitched onto his trunks.
A few hours after the fight, he will take the red-eye home. The funeral is scheduled for Sunday in New York.
He plans to celebrate Saturday night. He knows he will mourn Sunday. He will have to be strong to do both. But without Grandma's lessons, a Baby Maniac would never have become The Golden Child.
NOTES, ANECDOTES
· Despite eight options, an octopus in the Shark Reef aquarium at Mandalay Bay had the same pick as everybody else. The eight-armed octopus picked Marquez over Diaz Thursday in a promotion borrowed from the World Cup. Two boxes, each with a prawn inside, were lowered into a tank. Marquez' name was on one box. Diaz was on the other. In a quick TKO, the octopus immediately attacked the Marquez box.
· Marquez' victory, a ninth-round stoppage of Diaz last year, was voted the 2009 Fight of the Year by the Boxing Writers Association of America. "I think this fight will be better than the first one,'' Marquez said.
· Boxing's international reach was evident Thursday at a news conference. Jorge Linares, who faces Rocky Juarez of Houston, is a Venezuelan lightweight who has been living in Japan for the last several years. Linares has a Japanese trainer, Sendai Tanaka. Tanaka is bi-lingual, but that doesn't include English. He spoke to the media in Spanish, which was translated into English by Golden Boy matchmaker Eric Gomez, who would have been in trouble if Tanaka had spoken Japanese.