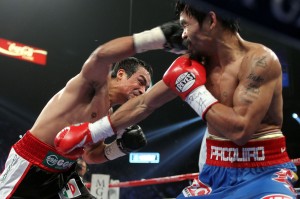 Notes, quotes and random anecdotes in the turbulent wake of Manny Pacquiao's majority decision over Juan Manuel Marquez:
· A Pacquiao fight with Floyd Mayweather Jr. will be easier to make than Marquez-Pacquiao IV if Marquez insists that it be in Mexico. In his initial frustration at the loss Saturday at Las Vegas' MGM Grand, Marquez seemed to say a fourth fight would have to be in his home country. In an angry response to a reported insult from Pacquiao promoter Bob Arum, World Boxing Council chief Jose Sulaiman also said a fourth chapter would have to happen in Mexico. Since then, Marquez has backed off, ruling out Vegas and saying only that the location would have to be neutral. Los Angeles? Dallas? Houston? Forget Mexico. Chances that Pacquiao would say yes to Mexico City are the same as any chance that Marquez would agree to Manila.
· Sulaiman will have a hard time believing this, but Arum has been the only reasonable voice in a frenetic push to get a deal done for either Pacquiao-Mayweather or a third rematch with Marquez. Arum hasn't shut the door on any option. What's the rush? For one thing, it's not even known how seriously Pacquiao was cut in an apparent head butt in a later round. He reportedly needed 28 stitches for the wound suffered over his right eye. That might take some time to heal.
· Memo to Pacquiao: The next time you fight — be it Mayweather, Marquez or Tim Bradley, get a haircut. A key argument in favor of Marquez was that his punches were more solid. From a ringside seat, the impact might have been exaggerated by long hair that bounced and flew wildly every time Marquez landed.
· From this corner, there has always been a sense that even Mexicans have been slow to give the ever resilient Marquez his due. Leave it to somebody else to rank him among Mexico's all-time greats. Yet even in his return home, Marquez can't win a majority decision from some of his countrymen. A complaint was filed with Mexican authorities over a political logo worn by Marquez Saturday night, according to the Associated Press. Marquez had PRI on his trunks. That's the acronym for the Institutional Revolutionary Party, which ruled Mexico for 71 years. The Democratic Revolution Party, PRD, complained that the logo violated a ban on premature campaigns. It looks as if Filipino Congressman Pacquiao wasn't the only politician in the ring.
· A friend, a Mexican-American and an ardent fan of Mexican fighters, watched HBO's pay-per-view telecast of Marquez-Pacquiao at Las Vegas' Mandalay Bay. She scored it a draw. From ringside, I scored it 115-113 for Marquez. I was one of many with the same score. It would be interesting if there was another poll of the same ringside writers after they watch the HBO replay this Saturday (10:30 p.m. ET/PT). The camera often provides a much different look.
No fracture in Benavidez' hand injury
Phoenix prospect Jose Benavidez, Jr. was relieved to learn he did not suffer a serious injury to either hand last Saturday in a unanimous decision over Sammy Santana of Puerto Rico on the Pacquiao-Marquez undercard. X-rays in Phoenix on Sunday showed he had strained his right wrist. The 19-year-old Benavidez, unbeaten (14-0, 12 KOs) as a junior-welterweight, was in evident pain. There also was swelling on a bruised middle knuckle of his left hand. But only the right gave him trouble.
"It's good news,'' said his dad and trainer, Jose Benavidez Sr., who has decided against a bout in mid-December. "Now, we're just going to do what's needed to take care of it, get healthy.''
If the rehab goes as planned, Benavidez Sr. said he is considering a fight on a card planned for Jan. 7 at Wild Horse Pass Hotel & Casino in Chandler, a Phoenix suburb. His son fought there in June, scoring a fourth-round stoppage of Corey Alarcon while suffering from the same injuries. The senior Benavidez said he will consult a hand specialist. He also said he will re-consider how his son's hands are taped.
"I've been taping them, but if we need somebody else, that's what we'll do,'' he said. "Whatever's necessary.''
Photo By Chris Farina/ Top Rank