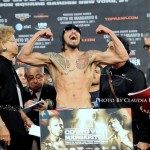 Staying in line means staying busy and that's all Antonio Margarito can do in a dogged, controversial pursuit of another big payday.
Margarito told 15Rounds.com in Tucson last week that he wants to fight Julio Cesar Chavez Jr. in September. But speculation, fueled by Bob Arum's comments to RingTV.com. has Chavez fighting Sergio Martinez instead. Nobody has to tell Margarito that Chavez-Martinez is the bigger fight. Nobody has to tell him that big fights don't get made for more reasons than anybody wants to recount, either. Without mentioning the oh-so-familiar suspects, let's just say that bouts between fighters represented by rival promoters these days qualify as a minor miracle.
If Arum, Chavez' promoter, can't make a deal with Martinez promoter Lou DiBella, it would be easy for him to stay in-house. Arum promotes Margarito, too. As the first alternate, Margarito gives Arum a marketable option, especially among Mexican and Mexican-American fans.
Many might still dislike Jr. for suspicions that he was allowed to sidestep the game's bruising dues because of his legendary dad, Julio Cesar Chavez, Sr. Many more dislike Margarito for the hand-wrap scandal that will be with him for as long as those scars surrounding his surgically-repaired right-eye. But the complaints are free advertising. Margarito's reputation is notorious. The Chavez rep is pampered. Mix the two and you've got a formula for strong sales and big television ratings.
That's why Margarito intends to fight a tune-up on May 26 or June 15 in southern Arizona at Casino Del Sol, where his brother-in-law, super-flyweight Hanzel Martinez, won a first-round stoppage on March 23 on a ShoBox-televised card. In a sure sign of interest among Mexican and Mexican-American fans, TV Azteca plans to televise Margarito's next bout. But against whom?
One of the names mentioned on March 23 was Jesus Gonzales, popular in Phoenix, his hometown.
"Absolutely,'' Gonzales said when asked if he would be interested. "That would be great opportunity.''
But Gonzales' chances at the bout aren't great. He is coming off a loss in Montreal to Adonis Stevenson, who knocked him out in the first round. According to people who represent Margarito and Gonzales, Gonzales has been medically cleared to fight since the devastating loss. His promoter had asked him to undergo an MRI for head trauma.
Gonzales also plans to go down in weight — from super middle (168 pounds) to middle (160). Margarito said on March 23 that he is training and weighs about 165 pounds. He wants to fight for the 160-pound title held by Chavez, the World Boxing Council champion who has reportedly been at least 180 at opening bell for his last few fights.
Neither the weight nor Gonzales' stunning loss in his last outing, however, appears to be the issue. Gonzales' southpaw stance against the orthodox Margarito might be. The left-handed Gonzales has a better chance at hitting Margarito's right eye, which was badly-bloodied in his December loss to Miguel Cotto in a rematch stopped after the 10th round.
Repeated blows have degraded the skin around the eye, which was badly damaged in 2010 by Manny Pacquiao, who fractured the orbital bone. It quickly tears and ruptures into the bloody mess that led to the ringside physician in New York to call a halt to the fight against Cotto, despite Margarito's protestations. Cotto targeted an eye that will be target for as long as Margarito continues to fight.
Margarito might have to become more defensive, says his manager, Sergio Diaz. At best, a change in style is problematic for an iron-chinned fighter known best for moving forward. Against a natural left-hander aiming for a problematic right eye, chances at pulling off that one get complicated, if not dangerous.
Dangerous enough to lose that valuable place in line for one more trip to the pay window.