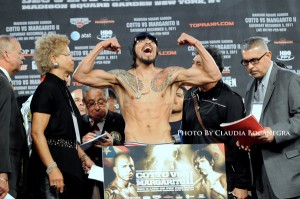 Antonio Margarito's management has an agreement for the former welterweight champion to fight on May 26 at Casino del Sol in Tucson, Gerry Truax of Showdown Promotions said Wednesday.
Talks with Casino del Sol have been underway since March 23 when 15 Rounds first reported the possibility of a Margarito fight in southern Arizona in his first bout since a bloody loss to Miguel Cotto last December. June 15 was an alternate date.
An opponent has yet to be determined, Truax said.
Margarito (38-8, 27 KOs) is trying to keep himself in line for a shot at Julio Cesar Chavez Jr., who is expected to face middleweight champion Sergio Martinez if he beats Andy Lee on June 16 in El Paso, Tex.
The controversial Margarito is coming off successive loss to Cotto and Manny Pacquiao, who fractured the bone surrounding his right eye in 2010. Margarito underwent surgery on the eye before the loss to Cotto. Cotto targeted the eye in a dramatic rematch that ended after nine rounds on advice from the ringside physician, who said blood and swelling had begun to limit Margarito's vision. Margarito insisted that he could have continued.
Margarito manager Sergio Diaz said the skin surrounding the eye is vulnerable to further cuts because of the many blows he has absorbed. The eye will continue to be a target. Diaz said Margarito, 34, will probably have to take on a more defensive style if he wants to extend his career.