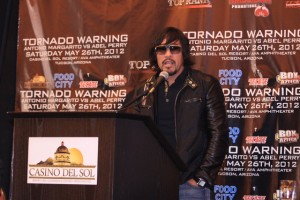 TUCSON – Antonio Margarito said Monday that a fight between him and fellow Mexican Julio Cesar Chavez Jr. would be more exciting than a speculated bout between Chavez and Argentina's Sergio Martinez for the middleweight title.
"Between two Mexicans, I think it would be better,'' Margarito said after his bout against Abel Perry on May 26 at Casino del Sol was formally announced during a news conference at the southern Arizona property.
Margarito wasn't trying to eliminate Martinez as a potential fight for Chavez, the son of a Mexican legend.
"I'm not saying it shouldn't be Maravilla,'' Margarito said in a reference to Martinez' nickname. "I'm not saying that at all. I'm just saying that I'm here too.''
The controversial Margarito emerged as a possibility for Chavez, since his management put together the May 26 bout, Margarito's first since a loss in December to Miguel Cotto. Another factor fueling the speculation is that Top Rank represents both Margarito and Chavez, who faces Andy Lee on June 16 at the Sun Bowl in El Paso, Tex.
Margarito, a former welterweight champion, will fight Perry at middleweight, 160 pounds. Margarito predicts that he will feel stronger at the heavier weight. He said he was at 172 pounds Monday.
Margarito is training for the first time in Tijuana, his hometown. Javier Cortez is working as his trainer. Raul Robles is working as his conditioning coach. Trainer Robert Garcia, who was in his corner for loss to Manny Pacquiao and Cotto, is not expected to join him in Tijuana. However, Margarito co-manager Sergio Diaz said Garcia will in his corner at opening bell for Perry, a Colorado Springs fighter who has won his last five fights, four by stoppage.
Phoenix junior-welterweight prospect Jose Benavidez Jr. is also scheduled for the Casino Del Sol card. His opponent has yet to be determined.
Benavidez expects his right wrist to be fully recovered in time for his first fight since a victory in November on the undercard of Manny Pacquiao's disputed decision over Juan Manuel Marquez. Benavidez underwent surgery on the wrist in late January.
He has returned to trainer Freddie Roach's Wild Card Gym in Hollywood, Calif., after working out for several weeks at Central Boxing in downtown Phoenix. He said he has resumed sparring.
"Went eight rounds twice over the last couple of days,'' Benavidez said. "The wrist is getting better. In three or four, weeks it'll be all the way back.''
Photo by Phil Soto/Top Rank