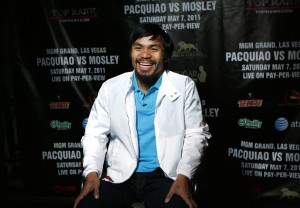 LAS VEGAS – Manny Pacquiao has angles. Naazim Richardson has analogies.
Those analogies might not be enough to counter the endless geometry of power and accuracy in Pacquiao's array of punches. But they are endlessly entertaining and powerful in their own right. Listen to Richardson long enough, and those one-sided odds against Shane Mosley begin to sound like funny money, a counterfeit come-on.
Of course, trainers are supposed to say that their fighters can win. It's in their job description. It is their job. But Richardson makes you believe that maybe, just maybe, Mosley really will win Saturday night at the MGM Grand.
Richardson speaks with the unblinking conviction of a preacher and the common-sense perception of a street-corner philosopher. Fools beware. Richardson doesn't suffer them lightly, if at all. He only asks for a chance, which might be his way of demanding respect for his fighter. There was a moment Thursday when it appeared that the requisite respect wasn't there during a media roundtable that Brother Naazim turned into his pulpit at the busy MGM Grand's Media Center.
Somebody wanted to know how surprised Richardson would be at a Pacquiao victory. The suggestion was that Mosley had no chance, not one at all. For a moment filled with potential for a spontaneous burst of angry frustration, Richardson paused. It came and went, like flash.
"Had to stop for a second there,'' Richardson said as he exhaled. "The street was about to come rolling out of me.''
For a man in the business of exerting control over a violent game with tactics designed to give his fighter every possible advantage, a fit of temper would have been uncharacteristic. Anger won't beat Pacquiao. Poise and a patient, calculated delivery of Mosley's proven power might.
Richardson has seen, studied and felt the impact of Mosley's power.
"I keep asking everybody if they've ever been hit by Shane Mosley,'' Richardson said. "I have. I've worn the pads. I've felt those punches.''
Richardson is convinced that Mosley's power can dictate a change in Pacquiao's style. Richardson has a theory that Pacquiao's inexhaustible energy has a way of scoring points because it is such an eye-catcher. The judges, like the crowd and the television audience, can't take their eyes off of him. It was a style, Richardson said, that Sugar Ray Leonard used to his advantage in his 1987 decision over Marvin Hagler.
"I've always said that Leonard was masterful in the way he got everybody, including the judges, to just watch him,'' Richardson said. "Nobody, including the judges, paid any attention to Hagler.
"That's what Pacquiao does. With his energy and that head bouncing up and down, everybody just watches him. That's what Shane is going to have to do: He's have to take away some of that energy.''
The suggestion is that a Mosley punch or combination in the early rounds will do exactly that, although a cracking right in the second round a year ago wobbled Floyd Mayweather Jr., yet still was not enough for a Mosley victory.
But the Pacquiao and Mayweather styles are as different as the Marines and Coast Guard. Pacquiao attacks; Mayweather defends. Pacquiao's offensive style and mindset mean he is open to a counter. Richardson says he has studied Pacquiao throughout his career and detected a flaw that he believes could result in a Mosley victory
"I've seen something pop up in the tapes,'' said Richardson, who wouldn't be more specific. "It's like one of those things you see when you're in school. You know, you're sitting there, the teacher asks a question and you're still sitting there without an answer. Then, somebody gives you the answer and you think: 'Damn, why didn't already think of that?'
"It's that simple.''
Simple is not synonymous with easy, however. If it were easy, Richardson probably wouldn't be in any fighter's corner. His relationship with Mosley first had to be tested before he knew it would be effective. It was before Molsey upset of Antonio Margarito in January, 2009
"I felt like me and Shane could work together when we had that first dispute,'' Richardson said. "You know, it's like that girlfriend. Everything is great until you leave the toilet seat up for the first time.
"The first dispute with Shane was when I started wrapping his hands. Shane wants to fight like it was back in the bare-knuckle days. I'd wrap with the stuff and he'd say: 'Too much, I like to feel it.'
"I had to tell him: You're fighting a monster, a guy who is hard to knock out. You got to protect those hands.
"We talked. We worked it out.''
About two-and-a-half years later, Mosley is confronted by a bigger challenge in Pacquiao, yet still daunting. Few gave Mosley a chance against Margarito, who was coming off a huge upset of Miguel Cotto.
"Right now, Shane looks just like he did before Margarito. The same confidence, he's doing the same things.''
If he same things include a Mosley victory Saturday night, it won't be just another Richardson analogy. It'll be amazing.
NOTES, QUOTES
• A Top Rank-promoted card featuring Las Vegas featherweight Jesse Magdaleno (3-0) against Jonathan Alcantara (4-3-2) of Novato, Calif., will begin at 5 p.m. (PST) at Las Vegas' Mandalay Bay. ESPN's telecast of the card, scheduled for seven fights, will begin at 7 p.m. Chicago light-heavyweight Mike Lee (4-0, 3 KOs), a Notre Dame grad, faces Gilbert Gastelum (0-1) of Tucson.
• Former middleweight champion Kelly Pavlik appeared Thursday at a news conference for the Pacquiao-Mosley undercard Saturday night. Pavlik (36-2, 32 KOs) faces super-middleweight Alfonso Lopez (21-0, 16 KOs) in his first bout since undergoing rehab for alcohol problems. "The story has already been; everything has been told,'' said Pavlik, who only wanted talk about Lopez
• Lopez wore a black cowboy hat. He must have bought in his hometown, Cut & Shoot, Tex.
• Phoenix prospect Jose Benavidez, Jr. (10-0, 9 KOs) appears on the Pacquiao-Mosley undercard in a junior-welterweight bout against James Hope (6-7-1, 4 KOs) of Rock Hill, S.C. It is Benavidez' last fight before he is scheduled for hometown pro debut on June 11 at Wild Horse Pass Casino in suburban Phoenix. A card featuring Benavidez in Phoenix last summer was cancelled because of controversy over Arizona's proposed immigration legislation.
• And Top Rank's Bob Arum couldn't resist a shot Thursday during the undercard news conference at rival Oscar De La Hoya's Golden Boy Promotions and its banker-turned CEO Richard Schaefer. In introducing Felix "Tutu" Zabala, promoter for junior-featherweight champion Wilfredo Vazquez, Arum said Zabala was an example of old-school promoters who "don't steal other fighters.'' Arum and Zabala have a deal to co-promote Vazquez, who faces Jorge Arce. Both Zabala and Arum have been in court against Golden Boy, Zabala over the contract rights to Saul "Canelo" Alvarez and Arum over rights to Nonito Donaire.
Photo by Chris Farina / Top Rank