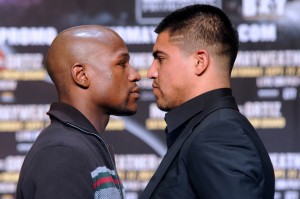 LAS VEGAS – Referee Joe Cortez' job of being in the ring yet out of the spotlight Saturday night for Floyd Mayweather Jr.-Victor Ortiz at the MGM Grand got tougher with further comments from Ortiz trainer Danny Garcia, who Thursday called some of Mayweather's tactics illegal.
Some unwanted attention on Cortez promises to be there in the wake of Garcia's complaints about Mayweather's sharp elbows. Garcia also asked that Cortez not step in to break up the action when Ortiz, as expected, tries to fight on the inside.
"The elbow, that's illegal,'' said Garcia, who at a formal news conference Wednesday called Mayweather "a dirty" fighter. "The elbow can hit him, cut him, can break his nose.''
Predictably, Mayweather's trainer and uncle, Roger sneered at Garcia's complaints about the alleged elbow, many of which apparently were thrown in Mayweather's 10th-round stoppage of Ricky Hatton in a 2007 bout worked by Cortez.
"Using elbows? What are you talking about?'' Roger Mayweather said in the second session of a media roundtable. "He didn't knock out Hatton with an elbow. He knocked him out with that check hook.''
Hatton's corner complained that Cortez did not allow the popular Brit, a notorious inside brawler, to put enough pressure on Mayweather. A consequence, according Hatton's corner, was that Mayweather used his speed and had enough space to throw counters.
Pressure is believed to be the only way to beat the undefeated Mayweather (41-0, 25 KOs). He needs some room to land the counter-right, his most lethal punch.
"Inside will neutralize Floyd's right-counter, his best punch,'' Garcia said.
But be very careful of what you ask for. What if Ortiz (29-2-2, 22 KOs) is permitted to close the distance, eliminate that room? At times, Hatton seemed to do just that, yet Mayweather appeared to respond in kind with brawling blows that, according to Garcia, came at the end of an unprotected elbow instead of a gloved hand.
"Obviously, my nephew finds a way to win,'' Roger Mayweather said. "He's found 41 ways to do it.''
It sounds as if Garcia has studied Cortez almost as much as Mayweather. Cortez' work in Amir Khan's dramatic victory last December over Marcos Maidana represents a precedent that concerns Garcia, who mentioned Cortez' role in the 2010 Fight of the Year.
Somehow, Khan survived a series of concussive blows from Maidana in the 10th round. He did, Maidana complained, because Cortez allowed him. He stepped in to break up the action just when it looked as if Khan would succumb.
"Look, I like Joe Cortez,'' Garcia said. "He does a pretty good job. But he is like any other man. He makes some mistakes.''
In perhaps another alert, Garcia said Mayweather should not be allowed to turn his back on Ortiz.
"The ref should know, if he turns his back, the punches are coming,'' Garcia said.
The shoulder roll is one of Mayweather's patented moves. It looks as if the familiar tactic limits the size of the target. Instead of a full upper-body — framed from shoulder to shoulder, an opponent sees only a narrow side. It is one element that makes Mayweather so elusive. But, Garcia says, Mayweather often rolls the shoulder so much that the opponent sees his back.
"Covering up from punches with his back, that's not boxing,'' Garcia said. "That's not good defense.''
Feuding families in every corner
Garcia's comments about Mayweather's tactics and Cortez' role might be another attempt at gaining an edge in a welterweight fight full of gamesmanship from every angle.
Here's the latest one, a rumor Thursday out of the Mayweather camp:
Ortiz' estranged father, Victor Sr., has been invited to the fight by Mayweather, who said Wednesday that Ortiz is lying when he says his dad abandoned him when he was 7-year-old in Kansas. Mayweather advisor Leonard Ellerbe didn't deny it.
"You never know,'' Ellerbe told Lem Satterfield of Ringtv, The Ring magazine' on-line edition produced by Yahoo. "We've got a lot of surprises for him. We're working on a lot of things. Victor could look around the arena and see a lot of people. He could see anybody from his past. And that's the truth."
Ex-Ortiz trainer Robert Garcia, Danny's brother, and Ortiz longtime rival, lightweight champion Brandon Rios, already have been invited to the welterweight fight by Mayweather, who tentatively plans to have both walk with him into the ring.
Danny and Robert Garcia are neighbors, yet won't talk to each other.
"He's my brother and I love him,'' Danny said Thursday. "Robert can say anything he wants. But in this business he's doing bad things.''
Now, there's a rumor that Ortiz' dad might join the parade. Victor Jr. tried to reconnect with his dad not long ago. But his attempt failed. He has moved on.
If Ortiz Jr. has heard the rumor, maybe he should throw a counter and invite Floyd Mayweather Sr. to accompany him into the ring. Mayweather's estranged dad has not been seen since the two got into an expletive-filled shouting match on HBO's 24/7.
Photo By Claudia Bocanegra