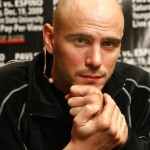 Nobody has to tell Kelly Pavlik about The Great Recession. He lived it. His career declined like the economy from late 2008 through 2009. It's hard to say whether projections from so-called business experts are bearish or just more bull. But at least Pavlik has a chance in hand, now healthy, to restore fundamental confidence in an attempt to forget the last 18 months and perhaps re-create a promising future.
Pavlik's first fight in 2010, a Home Box Office-televised date on April 17 against Sergio Martinez in Atlantic City, is being called the most important middleweight fight in several years by promoter Bob Arum.
Important means it is an indicator about whether it is time to re-invest in Pavlik, whose future was knocked sideways in October, 2008 by Bernard Hopkins and almost knocked out a few months later by a dangerous infection on the middle knuckle on the index finger of his left hand. The infection and maybe Hopkins are gone. But some of the questions aren't. Pavlik knows that. He has the scars he can see. But professional maturity is often about dealing with the unseen. Second-guessing and unfounded speculation leave their own scars.
"Flak,'' Pavlik said Thursday during a conference call in a matter-of-fact tone that also seemed to say that he has come to terms with it
Flak is the price of stardom these days and perhaps in any day. Manny Pacquiao has had to endure it in rumors about performance-enhancers that were planted by Floyd Mayweather Sr. and have continued in the wake of negotiations for a March fight that fell apart when Floyd Jr. demanded Olympic-style drug testing. Hopkins is dealing with it all over again from critics and allies urging his retirement after a messy victory over Roy Jones, Jr. Pick the star and you'll find the flak. Like big money, it's part of the guarantee.
Along Pavlik's career path, it may have landed early. But his apparent understanding of it is a good sign for a business that could use him.
"If the flak is going to be there, there's nothing I can do,'' said Pavlik, who questioned the quality of opposition Arthur Abraham beat for the International Boxing Federation's version of the middleweight title before his super-middleweight loss by disqualification to Andre Dirrell. "Abraham got the middleweight world title by vacancy. He didn't fight nobody to win the world title. Who did Arthur Abraham defend his title against? Why didn't he get the flak?''
In Martinez, Pavlik hopes rumors about his willingness to fight Williams.
"Next to Williams, Martinez is the toughest guy out there,'' Pavlik said
Still, Martinez doesn't register much on marquee, the marketing scale that measures name-recognition. He also doesn't represent the career-defining fight that seemed to be Pavlik's destiny after knocking out Jermain Taylor three years ago. Nonetheless, Martinez is there, in his way and dangerous enough to crush him beneath a burden that will collapse if Pavlik can't prove he is as good as everybody thought he was before his recession. In December, Martinez lost a debatable decision to Paul Williams, whom Pavlik was supposed to fight before MRSA — a virulent staph infection — put him in the hospital.
"I thought he won the fight,'' said Pavlik, who went on to say that Martinez's impressive performance also some weaknesses. 'I was impressed, but I wasn't impressed.''
Martinez left himself open to punches that Pavlik intends to land. However, there are questions – big ones in that collective burden of proof – about Pavlik's hand speed and ability to deal with punches thrown from angles. They've been there since Hopkins upset him at heavier weight, 175 pounds instead of 160.
"From mind-to-fist, I just couldn't let it go," said Pavlik, who said he wasn't feeling well on the night of his only loss in 37 bouts. "It was just a bad fight. Nothing we could do about it. I was lethargic.''
If Pavlik wins, the guess is that he will finally face Williams in a bout that has been talked about for a while. It might not be quite the showdown it might have been, however, because Williams was disappointing against Martinez.
If not Williams, Arum hinted at what might await Pavlik if he beats Martinez and, in the process, is impressive enough to eliminate the doubts. Pavlik's future, Arum said, might be at 168 pounds, the super-middleweight division that currently is being decided by the on-again, off-again World Classic Tournament. People are bigger and so are the real middleweights, Arum said. The best, he says are working as super-middleweights, which could mean the emerging Americans, Andre Ward and Dirrell, are in Pavlik's future.
"After he cleans up the middleweights, then he moves up,'' Arum said of a post-recession path through flak and now fertile for the beginning of a Pavlik renewal.
Fathers know best
Jack Mosley, Shane's dad, and Floyd Maywather Sr, Floyd' Jr.'s father, held court in conference call last week about their son's welterweight clash on May 1 at Las Vegas MGM Grand in the year's most anticipated fight.
Floyd Sr. made a lot of noise. Jack Mosley made a lot of sense. That was predictable, unlike the fight.
Jack Mosley says his son's superior punching power gives him.
Shane, he said, is "fast enough to hit Floyd over-and-over again. That will be a problem for Floyd.''
Floyd Sr. laughed. Floyd Jr., he said, has superior brain power.
"Shane's not smart,'' said Floyd Sr., who believes his son is the more complete fighter.
Floyd Sr. also was no impressed with Shane Mosley stoppage of Antonio Margarito more than a year ago in Los Angeles.
"Margarito was a walking mummy,'' Floyd Sr. said not long after suggesting that Shane Mosley was a dummy
Notes, anecdotes
· Andre Berto will fight for himself and a cause Saturday in south Florida against Carlos Quintana. Proceeds will go to Haiti's efforts to rebuild from the February earthquake, which forced Berto to withdraw from a bout with Mosley. Berto has family in Haiti. Money is designated for Project Medishare, a health-care fund. Berto, has been active in trying to help Haitians, also has a Dynasty Foundation in his name at www.AndreBerto.com.
· Margarito isn't helping himself in the court of public opinion by not accepting some accountability for gauze described irregular by his attorney Daniel Petrocelli and rock-like by others before he was forced to re-wrap hands in the loss to Mosley in Los Angeles. Margarito, who returns to the ring on May 8 in Mexico and hopes to be re-licensed in the United States, again said Tuesday at a news conference in Los Angeles that he had no idea disgraced trainer Javier Capitello had inserted an illegal pad The media will never buy the repeated claim that he had no clue. Writers know that fighters treat their hands the way a master carpenter cares for his tools. They protect their hands so much that some won't even engage in a simple handshake. Some of the media will never believe him. But a campaign to restore Margarito's reputation can gain some traction, if he at least says he's sorry. If he didn't know, he should have.
· And I can't help but think of Mike Tyson while watching Tiger Woods at The Masters. It isn't about golf as much as it is a Tyson-like spectacle. Late in his career, Tyson wasn't about boxing either. The media would gather at ringside, waiting for an accident to happen. Now, that media are in Augusta, waiting for another one.