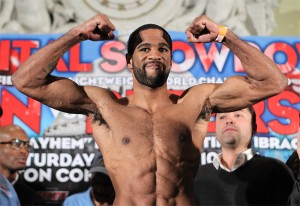 Lamont Peterson's camp must not have been reading websites, Twitter or Facebook when ESPN reported just two days after Peterson's upset on Dec. 10 of Amir Khan that Milwaukee Brewers outfielder Ryan Braun had tested positive.
Either that or Peterson's management was partying on a planet where there is no social media. Braun's positive test was for elevated levels of testosterone. A second test showed that the testosterone was synthetic, meaning that Braun, the National League's 2011 MVP, had either injected it or ingested it.
Braun's positive test was a cautionary tale in what not to do. Peterson went ahead and did it anyway, setting off a fast-moving chain of events that led to the cancellation Wednesday of a May 19 rematch with Khan at Las Vegas' Mandalay Bay. Peterson's test samples also revealed a testosterone that had been injected as pellets into the junior-welterweight's hip.
Expect lots of legalese in the argument about whether the testosterone in the Peterson sample was synthetic. His Las Vegas physician, Dr. John Thompson, said it was soy-based, calling it "bioidentical testosterone'' administered after Peterson complained about fatigue brought on by what Thompson said were low levels of the natural stuff.
Even if those pellets were veggie burgers, they had to be injected in a procedure not reported to VADA, the Voluntary Anti-Doping Association, which conducted the tests in an agreement with both camps. If there was in fact a legitimate medical reason for the testosterone treatment, VADA should have known about it. That it didn't before a positive test on March 19 raises a red flag.
Peterson, a nice guy with a compelling story, said he was told that soy-based testosterone was not on the banned list. He said he researched on-line and decided it was natural. He said there no reason to worry. If not, why not report it on a VADA form that asked each fighter to disclose medications? Sorry, but to call its absence on the document an inadvertent slip just doesn't explain it. Even his own camp says the treatment started about a month before his controversial decision over Khan in Washington D.C.
Questions raised by Braun's positive test should have alerted Peterson to the peril of continuing it without disclosing it. Unlike Braun, the unfortunate Peterson doesn't have a Player's Union or an appeal process that can protect him and his livelihood. Braun's 50-game suspension was overturned in February on an appeal that disputed only the process in which the sample was delivered and not the result itself.
Braun got off on a technicality.
Peterson didn't.
He already has lost a payday in a cancellation also costly to Khan and Golden Boy Promotions. He'll lose a few more if he can't explain to various state commissions why he wasn't more transparent about his use of a substance long controversial in other sports but just becoming an issue addressed by boxing.
In some ways, Peterson has become the personification what boxing must do: Pay attention, or else there will be cancellations in a business that can't afford them.
AZ Notes
Phoenix junior-welterweight prospect Jose Benavidez Jr. (14-0, 12 KOs) is expected to test his surgically-repaired right wrist on May 26 at Casino Del Sol in Tucson against Josh Sosa (10-2, 5 KOs), a Leavenworth, Kan., fighter who has lost has last two. The fight will be Benavidez's first since injuring the wrist during a victory in November on the undercard of Manny Pacquiao's controversial decision over Juan Manuel Marquez.
Benavidez is scheduled for an undercard that will feature Mexican welterweight Jesus Soto Karass (24-7-3, 16 KOs) against Said El Harrack (10-1-1, 5 KOs) of Henderson, Nev. Karass-El Harrack replaces the Antonio Margarito-Abel Perry bout, which was moved to July 7, also at Casino Del Sol, because of an Achilles tendon injury suffered by Margarito last week while training in Tijuana for his first bout since a loss in December to Miguel Cotto.