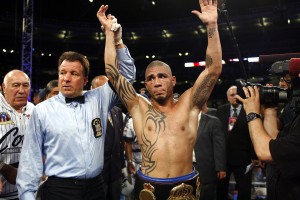 Brinksmanship equaled salesmanship in Bob Arum's extraordinary fight to keep the Miguel Cotto-Antonio Margarito rematch on Dec. 3 in New York. Arum pushed all the right buttons, created all of the available leverage, in moves that figure to multiply the pay-per-view rewards in a way that traditional promoting could not have.
Even a conference call, usually ho-hum, now looks like an ingenious piece of marketing a few days after Cotto said Tuesday he would fight only in New York, a comment that led to Arum's abrupt end to the call. Cotto surprised Arum, yet helped him put further pressure on the New York State Athletic Commission in a battle that kept the Madison Square Garden fight from being moved. Denver and Phoenix were the alternate sites, a couple of options that added up to leverage at the box office. New York didn't want to lose the business to another city.
None of this is to say that Arum, who had plenty of his own business at risk, had a blueprint for each step in the fast-moving chain of events.
Nobody could have, especially in the contentious wake of Manny Pacquiao's majority decision over Juan Manuel Marquez on Nov. 12 and then promotional work the following week before Julio Cesar Chavez Jr.'s victory over Peter Manfredo in Houston. For conspiracy fans who believe Arum plots every move, please go back to your home on the grassy knoll.
In the end, Arum simply reacted shrewdly, countered when he had to, with money and smarts that left the New York commission with no choice but to license Margarito after reviewing medical recommendations, which were unanimous that Margarito's surgically-repaired right eye was in no danger of permanent damage. It's anybody's guess as to what the messy process will do to the fight itself.
At the first sight of injury near an eye so terribly battered by Pacquiao more than a year ago, and it could be over. Expect heightened vigilance from the referee, ringside physician, New York commissioners and Margarito's corner, especially in a fight that already includes an element of revenge.
Cotto continues to believe he was beaten by Margarito in 2008 by loaded hand-wraps discovered before Margarito's loss to Shane Mosley in 2009.
In both HBO's 24/7 and aforementioned conference call, Cotto used the word "criminal" in talking about Margarito.
"If you have another way to explain that, please, tell me what words to use,'' he said.
When asked if he would target the eye, Cotto said:
"I'm going to use any advantage I think I have. I'm going to fight like always. I'm going to do my work.''
Leave it to somebody else to argue whether Margarito should be allowed to fight at all after the hand-wrap scandal. The rematch comes with an edge that Cotto is seeking his own kind of justice. I can't say I'm comfortable with the vigilante tone or the potential for another injury to Margarito's eye. But I'll be watching nonetheless, like so many others who won't admit it, yet won't be able to resist a drama that is part guilty-pleasure part blood-lust, unmistakably dangerous and thoroughly compelling.
AZ NOTES
· If New York said no, the Arizona State Boxing & MMA Commission planned to license Margarito. "We were prepared to, but it wasn't 100 percent certain,'' said Arizona commission executive Dennis O'Connell, who received Top Rank's medical documents on Margarito's eye on Friday, Nov. 18, the same day that Top Rank contacted US Airways Center about the possible move. O'Connell had a Phoenix ophthalmologist review the documentation. If the NYAC-appointed doctor had found problems in his examination, Arizona would have had to conduct its own exam.
· Phoenix as an option for Cotto-Margarito II is another sign of the re-awakening of a market gone dormant during the immigration controversy involving SB1070, state legislation that turned the Arizona desert into no-man's land for Mexican fighters and sponsors for a couple of years.