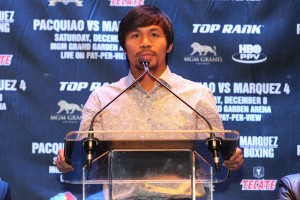 Talk about Manny Pacquiao-Floyd Mayweather Jr. is back like a bad hangover. Everybody seems to have an interpretation, if not a prediction, in the wake of a settlement to Pacquiao's defamation suit and his offer to give Mayweather the lion's share in a 55-45 split.
It's as if Pacquiao's rematch with Juan Manuel Marquez in their fourth meeting on Dec. 8 doesn't matter. Maybe, it doesn't, which is good reason for Marquez to worry about Robbery IV. The public and media fixation on Pacquiao-Mayweather won't go away and perhaps won't let anything stand in its way
That said, there's been a shift in public sentiment and in Pacquiao himself. Combine the two, and only Marquez matters – or should – in any talk about Pacquiao-Mayweather. If Pacquiao loses, the Filipino Congressman becomes a full time politician. He has talked about leaving the ring. Marquez could hasten that departure.
Pacquiao trainer Freddie Roach is concerned on a couple of levels.
First, there's sympathy for Marquez and his argument that he was robbed in the narrow decisions, split and majority, that went against him in the first and second rematches. Scorecards can be like ballots. They're subjective.
"I think we go into the fight three to four rounds down already,'' Roach said about the Marquez bout when it was still being negotiated a couple of days before he worked Julio Cesar Chavez Jr.'s loss to Sergio Martinez on Sept. 15 at Las Vegas' Thomas & Mack Center.
That means Pacquaio has to win by knockout. That would be a first. Marquez, who has six losses, has never been stopped. Given the narrow 36 rounds that already have transpired and Pacquiao's record of no stoppages in five fights since a 2009 TKO of Miguel Cotto, Pacquiao by KO is a very tall order.
Roach says the task in camp at the Wild Card Gym will be to rediscover Pacquiao's old aggression, which has withered for reasons that aren't clear.
Compassion, perhaps the born-again expression of Pacquiao's return to a Catholic lifestyle, has lessened the ferocity for which there was no refuge for so many of his fallen foes, Roach says. It was evident in 2010 when Pacquiao almost begged referee Laurence Cole to stop what he wouldn't in a brutal decision over Antonio Margarito at Cowboys Stadium in Arlington, Tex.
Then again, it wasn't enough in 2004 when Pacquiao, then at his ferocious best, knocked down Marquez three times in the first round, but never out during the next 11 in a bout that ended in a draw.
Roach says Pacquiao's physical skills are as sharp as ever, although there seemed to be a missing gear in the hand speed throughout his controversial loss by decision to Timothy Bradley on June 9. From Erik Morales to Oscar De La Hoya, Pacquiao threw punches at a rate that overwhelmed. Against Bradley, that rate proved pedestrian.
But Roach is convinced that those hands will move at a ruthless rate if Pacquiao's heart still has the streak of larceny needed in a brutal business.
Will it?
"I don't know,'' Roach said. "That's the challenge.''
The only one.