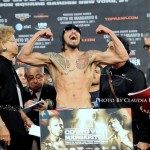 TUCSON, Ariz. – Talks are underway for Antonio Margarito to fight in Arizona in May or June, Margarito and his manager, Sergio Diaz, said Friday.
"We're talking about May 26,'' Margarito said through an interpreter after his brother-in-law, super-flyweight Hanzel Martinez, threw a powerful right hand for a first-round stoppage of Jose Miguel Tamayo at Casino Del Sol.
Margarito manager Sergio Diaz said June 15 also is under consideration, possibly at Casino Del Sol's outdoor stadium. Friday night's card was staged in one of the casino's ballrooms.
"May or June is fine,'' said Margarito, who last fought in December in a dramatic loss to Miguel Cotto in New York.
Margarito, whose surgically-repaired right eye was badly bloodied by Cotto, said he is pointing to a fight in September with World Boxing Council middleweight champion Julio Cesar Chavez, Jr.
Margarito said he currently training and his weight is at 165 pounds.