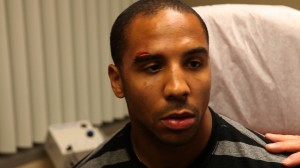 Reasons for the many controversies of 2011 are plentiful. Pick one. Pick a handful. In part, however, it appears to be symptomatic of a passing generation. Manny Pacquiao and Floyd Mayweather Jr. have only each other to fight and nobody seems to know today anything more than they did two years ago about whether that will ever happen. The bad blood of the last few years is getting old and tired. Maybe, it's time to just move on to another name, a fresh face for the sagging game.
Andre Ward has the look of somebody who could fill that frame, although his chances of doing so hinge in large part on his Super Six finale Saturday night against dangerous Carl Froch in the climax of Showtime's super-middleweight tournament.
Ward has been hanging around the fringes of the pound-for-pound debate for at least a year. Depending on the ranking, Ward is in the second five, poised to make a real claim on a spot that Pacquiao and Mayweather have exchanged, argued over, yet never fought for. Maybe, they will fight in 2012. Yeah, maybe Donald Trump and Barack Obama will be running mates.
No matter what does or doesn't transpire, Ward figures to do what he has always done: Stay busy in the proud, workmanlike fashion of a personality that often sounds aloof, yet remains thoroughly intriguing for a consistency defined by 14 years without a loss, amateur and pro.
Luck? Maybe But everybody gets blindsided once, twice or thrice over the course of nearly a decade-and-a-half. There are cheap shots, head butts, unseen punches and judges who see what they want to see. Ward has managed to beat them all. If you're seeking luck, buy a lotto ticket. Ward seeks victory with an unerring eye for detail.
There have been questions about whether he will be able to deal with Froch's strength, especially on the inside where the Brit is lethal. But Ward trainer Virgil Hunter counters that the 2004 Olympic gold medalist knows how to fighht in the physical, head-banging style he might encounter Saturday in Atlantic City.
"Before Andre was a boxer he was a fighter," said Hunter, who predicts Ward will win by knockout. "He would fight his way to victory. If you're going to win a gold medal in the Olympics, you're going to have to adapt to the amateur and point system and learn to win that way. He's had to adapt through training and repetition. But the fighting never left him. And I think that is one thing that surprises people about his fighting ability.
"Carl has said Andre hasn't fought in any exciting fights. Well, it takes two to make an exciting fight. When one guy is dominating, it's not going to be exciting. When you've got two guys busting each other up beside the head, yes, from the fans' perspective and the media's perspective, that's exciting. His fighting ability has always been there. The power of that fighting ability is that he knows when to use that strength against you and he knows when to use his opponents' strength against him. That's what makes up Andre.''
Translation: There's a lot more to Ward than anybody, even Froch, knows. At the Athens Olympics, few saw him on the Games' final day when he won America's only gold. Media and fans already were gathered at the Stadium for closing ceremonies when he stood on the victory stand's top pedestal. Britain's Amir Khan, the Game's designated star, had already won silver. The international media had moved on or gone home. Even promoters didn't seem to care much. Ward signed for a reported $100,000. Twelve years earlier, gold medalist Oscar De La Hoya signed for seven figures.
Ward's patient emergence since then might help restore value to Olympic gold. Ward has never said so, but the absence of big offers in 2004 was valuable for the motivation. Repeatedly, Ward talks about how he fights to prove people wrong. He personalizes it without demonizing his critics.
"You don't just win these types of fights; you've got to take them,'' Ward says in a tone that includes a lesson about respect.
Mayweather cries about getting enough of it; Ward commands it.
But Ward's search for it starts with the fighter he sees every day, staring back at him from the mirror, while he shadow-boxes. Respect is just a meaningless golden oldie if not preceded by self.
"I've set out from day one to do things that I've been raised to do,'' Ward said. "I'm not going to change for anybody. I'm going to be myself. You'd be surprised how many people outside of boxing have come up to me and said, 'Hey, I appreciate the way you carry yourself. I'm going to have my son or daughter look to you as an example.' That kind of stuff right there means a lot more to mean than gaining a few more fans or writers saying, 'Hey, this guy is crazy and we love him.'
"If you look at a guy like Ricardo Mayorga, for example, he was a shooting star. He came in and made some noise. Then, he was gone. People take shots at him and say he's ignorant. Then when you have a fighter who comes in and tries to carry himself the right way — not as a front or an act but just has a clean lifestyle, then that's not accepted either.''
Years from now, Ward says he wants his family to remember a fighter who makes them proud.
"When it's all said and done, my children are going to look back on my career and I want to be able to point to my career and say, 'Follow your dad. Do it the way he did it,' '' Ward said. "Once this is all done and I hang them up, the legacy that is there will be there forever. So that more important to me than a few pats on the back or for people to say you're exciting outside of the ring.
"When you tell people you're a fighter, they expect you to be ignorant and to act a certain way.''
But not Ward, who has his own expectations and perhaps his own way at a pound-for-pound shuffle.
AZ Notes
The last fighter to beat Ward was Phoenix super-middleweight Jesus Gonzales. They were both 14-years-old then. Gonzales, who was known then as Ernie, was considered a better prospect than Ward, who once said he's like to avenge the loss. The once-beaten Gonzales, who struggles to find fights, would love to give him that chance.
Phoenix junior-welterweight prospect Jose Benavidez Jr. continues to feel some pain in his right wrist, which was strained on Nov. 12 in a victory on the undercard of Pacquiao's controversial victory over Juan Manuel Marquez. But the lingering pain is not expected to keep from the main event on Feb. 3 at Wild Horse Pass Resort & Casino in Chandler. The card was formally announced Wednesday at a news conference in downtown Phoenix.
And Showdown Promotions and Top Rank are planning a ShoBox card on March 9 for Casino del Sol in Tucson. The card promises to be one of several in an Arizona market that is on the rebound since the immigration controversy over proposed state legislation, SB1070, subsides.